ScrapBook for Palm OS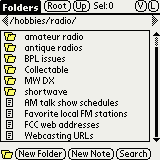 ScrapBook is a note-taking application, featuring enhanced organizational and search capabilities that help you manage a large collection of notes. ScrapBook also supports encryption, to let you keep selected notes private.
You can organize your notes using nested folders (as many as you need, nested as deeply as you need), as well as by using standard Palm OS "categories". Also, you can assign a list of keywords to a note, and find notes by searching for one or more keywords.
ScrapBook can search its database for multiple strings at once, searching keywords, titles, and (optionally) full message texts. Encrypted notes can be searched too! Search results are sorted so that the best matches are presented first.
ScrapBook can exchange notes, in both directions, with the built-in Memos or Memo Pad application.




Software Information
System Requirements
Version:
1.15a

Palm OS 4.0,Palm OS 5.0,Palm OS 6.0
135kb of RAM for the program + additional RAM for user data

License:
Free to try, $15.00 to buy
File Size:
184 KB
Rating :
Here are Some Key Features of "ScrapBook for Palm":
Nested Folders
ScrapBook lets you organize your notes in a hierarchical collection of folders, in which a folder can contain other folders, with no limit imposed on the nesting depth. A simple "Folders" screen lets you navigate quickly through the hierarchy. You can restructure the folders and move notes from one folder to another using Cut and Paste operations.

Superior Search Capabilities
There are a number of replacements available for the Palm OS Memos and Memo Pad applications, offering enhanced capabilities compared to the built-in program, however, ScrapBook offers exceptional search capabilities. Taken as a set, several of ScrapBook's features help to make its search capability quite easy to use and very efficient. "Keyword auto-completion" (described below) helps minimize the time needed to enter the word or words you want to search for. An internal cross-reference enables the actual search to be performed very quickly (without having to scan large amounts of text). By sorting the search results to list the best matches first, the note you're looking for will probably be at or near the top of the list. After a search, you can browse through multiple "hits" without needing to repeat the search.

Multiple Keyword Search
ScrapBook's primary search feature is the multiple-keyword search. The word or words used in a note's title are considered to be searchable keywords. Optionally, you can list additional keywords after the note's title (for example, the note's topic or subject matter, or synonyms for words used in the title).

Additional Search Features

String search - similar to a keyword search, except that it also searches the message text of the notes, and can search for an exact phrase. Optionally, the message text of encrypted notes can be included in this kind of a search. (This search mode does not use the internal cross-reference.) This search mode can (optionally) be restricted to search just a particular category, or just the notes and/or folders selected in the Folders form, or just the notes found by the previous search.
Global Find - ScrapBook supports the Palm OS® Global Find feature.
Find String - perform forward or backward searches to find occurrences of a string within the text of the current note.

Additional Features

You can use "virtual folders", which associate notes with a given virtual folder by performing a keyword search for the words used in the virtual folder's path. A virtual folder's contents appear immediately (as soon as the folder is created) - provided that the pre-existing notes already have the needed keywords assigned. Also, there can be multiple virtual folders that 'find' a given note.
You can choose which notes to encrypt (using the DES encryption algorithm), and what password to use for each encrypted note.
Remembers passwords in use during the current session so that decryption attempts often don't need to prompt for a password (this memory is cleared as soon as you leave ScrapBook or power down the handheld).
Import / Export notes from (or to) the built-in "Memos" or "Memo Pad" application (which provides a path for exchanging notes with the PC). Notes can be imported/exported directly to/from folders.
ScrapBook's data is automatically backed up to the PC during HotSync to guard against data loss in case the handheld device is lost or damaged or loses data due to low batteries, etc. The PC's copy of the data can be used to restore ScrapBook data onto a handheld device (the original handheld device or a replacement).
Supports Palm OS "categories"
Supports the 5-Way Navigator control (on Palm Powered™ devices made by Palm, Inc.)
RELATED SOFTWARE DOWNLOADS FOR ScrapBook for Palm