Personal Knowbase Reader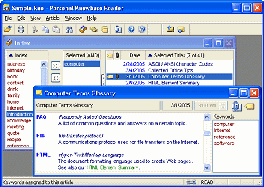 Personal Knowbase Reader is a viewer for data files created by Personal Knowbase freeform notes organizer software. Now you can share your Knowbase content with friends or co-workers, even if they don't have a copy of Personal Knowbase. PK Reader gives your associates read-only access to files, so they can view, search, export, and print Knowbase articles, but cannot modify articles or create new ones. Personal Knowbase is the note management tool that makes it easy to manage the large amount of information that crosses our desks every day. This freeform notes manager uses a natural way to retrieve data, using keywords to filter your knowledge base for related information quickly. PK Reader reads files created by Personal Knowbase version 2 or 3. Multiple users can read Knowbase files simultaneously on a network by using PK Reader.

Personal Knowbase Reader is now free for personal use. Feel free to download a copy for your friends so you can share your Personal Knowbase files.


Download Free Version 1.17 MB
Software Information
System Requirements
Version:
3.03

Works with Windows 98, Me, 2000, or XP
At least 64 MB of RAM

File Size:
1.17 MB
License:
Freeware
Download:
Click to Download
Rating:
Use PK Reader to Distribute Content:
Personal Knowbase Reader is the perfect tool for distributing your Personal Knowbase content to associates.
Great for corporations
Create a Knowbase file of product information to distribute to all employees.
Great for professors
Create a Knowbase file of research information or class notes to distribute to students.
Great for clubs or mailing lists
Create a file of topical information to distribute to members.
Great for help centers
Create a Knowbase file of support information for help desk employees.
Great for webmasters
Create FAQs or clippings files to distribute to regular visitors.
Features for Personal Knowbase Reader 3.0
Reads files created by Personal Knowbase versions 2 or 3.
Quickly access related information using keywords.
Create reports about articles and keywords.
Export information to text, Cardfile, HTML, and RTF files.
Print articles or lists of articles.
Personal Knowbase Reader can also read files across a network. You can place a Knowbase file on a computer as a publicly readable file, and other users can use Personal Knowbase Reader to open and view the file simultaneously on any other computers which can access the file.