Rocket Pinger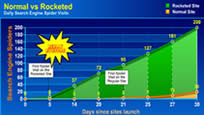 Drive Instant Massive Traffic To Your Sites The FREE, Easy and Completely Automated Way! Generate excellent amount of traffic for FREE and without any special skills or knowledge. Open the doors and invite the search engines to your sites. The shockingly simple and FREE way to explode your website traffic and sales. Rocket Pinger automates the dirty work for you - You enjoy life, Rocket Pinger brings in instant traffic to all your websites! This is the fastest way nowadays to start bringing quality traffic! Skip the big waiting and low trafficed period when starting a new site! Let ALL of your pages spidered and indexed in the search engines within mere days! All this made available by the revolutionary "blog and ping" technique and Rocket Pinger to automate to 100% the whole process!
Special Offer - Order now and receive 10% off the regular price! You Save $6.00 USD




Software Information
System Requirements
Version:
New

Windows 98/ME/NT/2000/XP
Pentium II CPU
64 MB RAM

License:
Free to Try, $57.00 USD
Screenshot:
View Screenshot
Rating :
This is what Rocket Pinger does for you:
Stop worrying, waiting, and hoping!
Wondering and doubting if your pages will get visited by the search engine spiders, is now a thing of the past. With Rocket Pinger it is certain they will come hunting down every single page.


You can now get just about any Web page you want spidered
Your hard work finding and putting together new content won't go to waste any longer! Rocket Pinger simly invites the search engine spiders to your pages.


You don't have to be a SEO specialist
With the made available "blong and ping" technique which is so easy and completely automated now by Rocket Pinger you can get all your pages the deserved search engine traffic. You don't have to be SEO specialist anymore to gain search engine traffic to your sites.


Get an immediate return on your investment
Every new website you create and publish gets visited by the spiders within days. From now on not only your sites start growing faster, but and your revenue starts increasing dramatically.


Submit all your pages from one single place with a big ease!
Just one install of the script is needed to submit all your pages. No more thousands of installs and time wasting, just one install handles all your need.


Ready database with sites to submit to!
The software comes with ready full database of sites to submit your pages to. Just get the software and submit, traffic will come in mere days!


Fully customizable database!
You can easily maintain your database of sites to submit to. Full control over your submissions database to gain even more traffic.


Smart Scheduling System and Completely Automatic Submits
If You have already tried doing the "blog and ping" technique by hand, enjoy more free time to be with your family or work on new projects, rather than doing the same, boring repetitive task all day. Rocket Pinger does all the necessary daily routines completely alone and automated.


Never worry about blacklisting!
With Rocket Pinger You can make your submits through proxies. This isn't available anywhere yet! Ensure yourself all your submits will be accepted and you won't get into any blacklist ever.


Friendlier and Helpful Interface.
Rocket Pinger is designed pretty carefully to make your work with it like a child's game. Everything is properly arranged and the most important features are always just infront of your eyes. Most part of the work you will regularly do is automated and you need mostly to use the mouse and not the keyboard.


Fast and Efficient!
Rocket Pinger submits as fast and lightweight as possible, to provide you maximum single submits a day. Its server side software, so all your pings pass through pretty quickly directly from your server, not from your PC.


Flexibility at first side!
Rocket Pinger can be used as completely standalone submissions tool. Rocket Pinger can be intergrated with any Blog software as well, to provide submits on each update of your blogs instantly and completely automated.


Total control over your work!
With Rocket Pinger you totally control every single detail of your submit. The possibilities are unlimited! No restrictions on anything, its just like you submit by hand.


Get your Web pages indexed and flooded!
Using Rocket Piger delivers you tons of free search engine traffic, time and time again, without costing you a single cent! Drive the free traffic your websites deserve completely automatic and free!
RELATED SOFTWARE DOWNLOADS FOR ROCKET PINGER