Namo WebEditor suite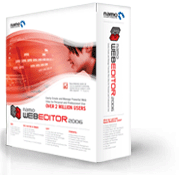 With over 2 million users, the award-winning Namo WebEditor suite is one of the most complete WYSIWYG web authoring tool for both beginners and experts, to cover all your needs to create, edit, publish, and manage your website. An integrated development environment empowers Web professionals to create cutting-edge sites. Easy-to-use functions enable beginners to grow into highly-skilled Web designers.

Why a suite? The Namo WebEditor suite including WebEditor, WebCanvas 2006, and other free tools, has strong basic HTML functions, and is convenient to use for anyone from beginners to experts. it covers A to Z of making web sites.
New Namo WebEditor is optimized to make any type of HTML document in any circumstances to the taste of user. You can get the felicitous capabilities for stylish designing, seamless coding, and flexible content authoring power through Namo WebEditor 2006.
Namo WebCanvas 2006 is a standalone vector-based Web graphic authoring tool that provides an intuitive interface and professional graphics editing features.
Software Information
System Requirements
Version:
9.0

Windows 7/2000 or XP/Vista
Pentium II 266 MHz
128 MB RAM
256 MB Hard Disk Space

License:
Free to try, $79.95 to buy
File Size:
48.6 MB
Screenshot :
View Screenshot
Rating :
Key features of Namo WebEditor Suite:
Importing and editing SWF movies
Namo FreeMotion allows you to import Flash movies in both SWF and EXE (Flash Projector) formats. Freemotion is compatible with movies created with Flash v4, v5, v6 or v7, including full action support. Scripts written in ActionScript 1.0 or 2.0 can be decompiled and displayed in the Action panel.
Exporting movies
After you import an SWF movie or create a new movie and finish editing it, you can export the movie as an SWF file or as a self-running EXE file.
Saving movies from a browser
When you install Namo FreeMotion, the Namo FlashCatcher button is added to Internet Explorer's toolbar. While you are viewing a page containing Flash, click the button or right-click the Flash movie and select Namo SWF Catcher to get the flash movie file.
Writing scripts and editing the scripts of imported movies
Namo FreeMotion fully supports ActionScript 2.0. It also enables you to edit scripts in imported movies.
Flash Video
You can insert and edit movies in such formats as AVI, Quick Time(*.mov), MPEG(*.mpeg), Windows Media(*.wmv), Real Media (*.rm;*.rmvb), etc. You can also preview frames of an imported video by dragging the playhead along the Timeline. The Video Import wizard helps you edit video before importing it.
Shape Editing
Namo FreeMotion supports drawing and editing vector shapes. You can resize, reshape, rotate or skew shapes using familiar tools to create illustrations, rich text, buttons, animations, and more.
Motion Tweens
Namo FreeMotion allows you to make Motion Tweens to create movement, scaling, rotation, and skewing. You can set the tween's speed, rotation, etc. You can even tween between two different shapes.
Template Wizards
With the Album, Banner, and Navigation Button wizards, you can create such items with just a few clicks. Likewise, the Slide Show Wizard helps you make a slide show in SWF format easily and conveniently.
Built-in animated effects
To help you create professional animations and movies with ease, Namo FreeMotion provides you with a number of animated effects you can apply to your artwork. Instead of creating motions in the Timeline or writing ActionScript, you can implement cool animated effects with just a few clicks.
Customized Text
You can add text anywhere in your movie. In the Text panel, you can customize all the properties of text, such as color, font, font size, hyperlinking, etc. Furthermore, you can set different colors, font styles, or links for whole paragraphs of text.
Font Embedding
You can embed fonts into movies so that users who don't have the fonts used in your movie will still see your text as it's meant to be seen. Font embedding for both dynamic and static text is supported.
Image Exporting Quality Control
When you pick a scene in an animation and export it as a still image, you can control the quality of the image. This function is useful when you have to adjust the loading speed of the image on a website.
Streaming sound
In addition to event sounds, Namo FreeMotion supports streaming sound, which starts playing as soon as enough data for the first few frames has been downloaded. You can choose between ADPCM and MP3 compression and specify the sample rate and the bit rate.
RELATED SOFTWARE DOWNLOADS FOR NAMO WEBEDITOR SUITE