mst Password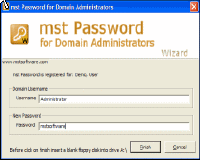 Nowadays, passwords and PINs are used everywhere in daily routine - for online banking, on the Internet, even for simple home computers. A forgotten password is often an utter nuisance.

On computer networks, the loss of a password to an important account can result in serious trouble. Particularly in areas, where server systems run for years without human intervention, administrators tend to forget critical passwords. Previously, in such a case, the only solution has been a new installation of the server systems - a rather complicated and costly measure.

But now, a significantly better remedy is available - mst Password. Given a physical access, mst Password enables its user to change forgotten or lost passwords of arbitrary accounts on a domain controller. This includes domain administrators, too! Due to the way mst Password works, cryptographic keys and certificates remain untouched. Thus, access e.g. to EFS files (Encrypting File System) is ensured. Ready? Save your installation and your network!
mst Password Wizard - changing lost passwords the easiest way! You only need to enter the account name and the new password.
mst Password is initiating the change of a password - no difference whether normal user or administrator.




Software Information
System Requirements
Version:
1.6.22.67

Windows 2000,XP,2003,Vista
Hardware: Floppy drive, CD-ROM drive
128 MB RAM

License:
Free to try, $99.90 to buy
Download Size:
1.12 MB
Rating :

Usage of mst Password:

mst Password can be installed on any computer running Windows. mst Password Wizard creates a special disk containing necessary program modules and the new password, protected with strong encryption for security reasons. The change of a password is done in four easy steps:

A bootable Installation-CD of Windows 2000, Windows XP or Windows Server 2003 is required. Proceed on one domain controller as if performing an installation - include the disk created by mst Password Wizard as an OEM supplied driver disk (by pressing F6 when indicated).
After the initial boot phase, mst Password prompts for the target installation whose account requires a change. Then, necessary prerequisites for modifying the password are being met automatically.
After a restart, before the login screen, mst Password presents the current status of the password change process.
After an afresh restart, the User/Administrator can log in with the new password
RELATED SOFTWARE DOWNLOADS FOR MST PASSWORD