MsiXray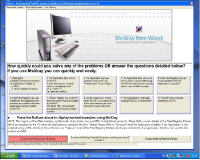 A new Application has just been installed? It is not working correctly or an application on the PC no longer works. MsiXray is the Essential Tool for anyone instilling and maintaining Applications on Windows PC, Integrate applications on your PC, detecting and resolving conflicts and errors.
MsiXay can discover the problem e.g.Conflicts between Applications, Missing File or Registry Entries, Access control problems and correct it. MsiXray can read many sources of information about a PC's Software Environment. MSI Installer Files (in the Cache) which were used to install the Applications on the PC. Event Logs from Windows, SysInternal's Procmon (and FileMon/RegMon) Monitor Logs. Verbose Logs produced when MSIs are installed or repaired. MsiXray Reports (selected examples),Differences between the PC Configurations (Files and Registry) at two points in time as capturing the changes made when an Application is Installed and Executed. Differences between the Files/Registry Entries defined in a MSI (and other MSIs) and the PC.




Software Information
System Requirements
Version:
2.0.592

Windows 98/ME/NT/2000/XP/2003/Vista
Pentium II CPU
256 MB of RAM

License:
Free to try, $39.99 to buy
File Size:
15.7 MB
Screenshot :
View Screenshot
Rating :
Expected Market for MsiXray:
There are currently a large number of Software Tools which can:
Scan your Registry, detecting and correcting potential problems and inconsistencies
Defrag your Disks detecting and correcting system errors
Ensure that your System DLLs and Drivers are the latest ones
Checks for Viruses and the installation of other Non Authorised Software.
BUT up until now there is no Software Tool which directly addresses the Applications Installation problems described above.
In some ways this is surprising because a PC without Applications is reduced to a:
Dumb Internet Terminal,
Citrix Client or other Thin Client processing networked applications.
Hence the correct installation of Applications on a PC is essential if a User is to get the full benefit from it.
It is therefore expected that the following will be interested in MsiXray
Support staff who are responsible for Defining, Setting up and Maintaining PCs for the Users of their Companies. These users will be particularly interested in the ability to load the MsiXray License onto a USB Memory Stick, and run MsiXray on any of their User's PCs (provided the Memory Stick is plugged into the PC when they are doing so (ie a Pseudo Dongle)).
Professional Application Packagers who generate MSIs which are used by (a) above. MsiXray has several functions for editing and correcting MSIs as well are tools for detecting conflicts and MSI Errors.
Advanced Home Users who have who already purchased some of the Software Tools described above. e.g. RegScanning, Disk Maintainers, Anti Virus tools etc. and are frequently installing and removing Applications from their PCs.
RELATED SOFTWARE DOWNLOADS FOR MSIXRAY