Mimic Audition 2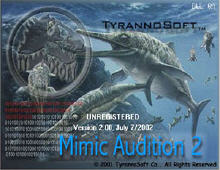 Mimic Audition 2 is an advanced Karaoke Hosting tool that includes a Player with direct CD+G disc playback, Speed and Pitch control and Sound Equalizer. It has a powerful Database with Internet connectivity and Songbook Printing. It has Media Ripping and Conversion, Performance Recording, Advanced Playlist with Visual Playlist Selector, Next-Singer display, Sound-FX playback, Album Cover Display, and much more.
Mimic Audition 2 supports all common Karaoke formats such as CD+G Karaoke, VCD Karaoke, Midi, DVD, and CD Audio. You can also play the latest karaoke with Tyrannosoft created formats such as MP3+G, WMA+G, KMF (Karaoke Media File), and KSF (Karaoke Sync File). Plus, Mimic will play almost all other common computer media formats such as AVI, WAV, AU, SND, WMA, WMV and others.
Mimic Audition 2 can rip (extract) and convert your CD+G discs for storage on your hard drive in one easy step. You can then play those files directly from the computer without needing the original disc. Keep your expensive and often irreplaceable originals safe!

Download Trial 12.5 MB
Software Information
System Requirements
Version:
2.0

Windows 8/7/XP/Vista
Pentium 3 CPU
512 MB RAM
800x600 or higher desktop
MS Media Player 6.4 or higher
MDAC 2.6 or higher
DirectX 7 or higher

Download Size:
12.5 MB
License:
Free to try
Rating :
Key Features of Mimic Audition 2:
Streamlined interface with detachable playlist,
and additional windows
Integrated Media Manager - one convenient window
for ripping, converting, and playlist management
DVD and VCD playback!
Enhanced playlists: Add media, CD+G, VCD,
and even DVD tracks in a single playlist!
Plays almost all Karaoke media formats
Queue mode. Songs are removed when complete.
and removed when played
Realtime Key and Tepo Changer!
Next-mode option (what plays next)!
Next Singer - show the singer name and song
Conversions - Convert between most formats
including KMF to BIN!
Make Sharable KMF files
Audio Equilizer
Real-time Spectrum display
SoundFX; Add clapping or cheers at a press
Internet lookup and local database.
No need to type track names!
Record performances
Print Songbooks and take requests
Works with Dual Monitors
Visual Playlist selector and Album Covers
Put your own logo/picture behind the lyrics
Supports External Viewing on Handheld Device!
Supported Formats: Discs: CD+G, VCD, DVD; Karaoke: KMF, MP3+G , WMA+G, BIN; MPEG Audio: MP2, MP3, MPA; Windows Media: WMA; Audio: WAV, SND, AU; Midi: MID, RMI (audio only).
Improved documentation with tutorials!
Player Features of Mimic Audition 2:
Play CD+G discs (channels – ie: multi-language tracks)
Play VCD Karaoke discs
Play DVD Karaoke discs (requires codec)
Play MIDI Karaoke files (KAR format)
Play MP3+G or WMA+G
Play CD+G BIN files
Play KMF and KSF
Rip CD+G discs to the hard drive
Play all types of Karaoke full-screen
Store thousands of Karaoke tracks
Remove vocals from CD+G or standard audio CD's
Control Multiplexing
Adjust Input/Output levels (Microphone, CD, Line)
Adjust Treble and Bass for all audio
Have continuous playback (dances)
Find songs quickly by title
Re-arrange the playback order of songs
Make Playlists for specific customers
Show the next singer for each track
Control special MIDI equipment during playback
Manage and search for all your music
Make music collections
Select different looks for your player
Drag files for quick adding
RELATED SOFTWARE DOWNLOADS FOR MIMIC AUDITION 2