MacNames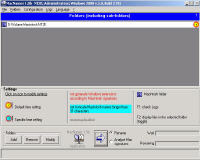 Mac to PC Software solution to automatically rename Macintosh files removing illegal characters and adding the three characters extension to filenames on a Windows NT, 2000 or XP Server to facilitate file types detection and use on Windows machines.
It lets you quickly prepare files created with Macintosh computers and stored on a WinNT , Windows 2000 or Windows XP Server volume for use in a Windows computer as well as shortening Windows long file names for an easy use by a Macintosh: can truncate windows filenames longer than 31 characters . Convert Mac files to PC via a periodic scan of specified folders in interactive Windows application use or Windows service mode use to ensure file names compatibility and cross-platform integration.
Does make using Mac files on PC easier: conversion mode takes the illegal characters and turns them into a"-" underscores or any valid Windows character you choose; Windows will identify the appropriate applications associated with renamed files and detects file types. The conversion table can be extended with your custom Mac to PC translations.
MacNames helps you in Windows-Macintosh cross-platform integration adding Macintosh extensions to win 2000 server in particular migrating documents from Macintosh to Windows NT/2000, renaming multiple files to remove trailing periods and forward slashes.




Software Information
System Requirements
Version:
1.1

Windows NT 4.0, 2000, XP, 2003 server, Vista
Pentium II CPU
256 MB RAM

License:
Free to try, $169.00 to buy
File Size:
2.13 MB
Screenshot :
View Screenshot
Rating :
Main Benefits:
automated renaming process is on a Server instead of on a Macintosh Workstation
there is no network overhead when converting and name cleaning Mac to PC
MacNames checks continuously predefined folders to ensure file names compatibility and executes file mass rename
when used as a Windows NT or 2000 or XP Service renaming files with illegal file names it increases productivity and is part of administrators toolkit focused on cross-platform needs.
automatic translation for transfer of mac folders to windows xp
Main Features:
Runs on Windows NT 4.0, Windows 2000, Windows XP, Windows 2003 server ( MacNames will run on Windows 95/98/ME but this platform does not support Mac services )
MacNames is also available as a Windows NT 4.0 or Windows 2000 or Windows XP Service
Supports Microsoft Services for Macintosh (MacFile), Cyan Software MacServerIP or Group Logic ExtremeZ-IP .
Option to include sub-folders in renaming processes.
Mapping of illegal characters ( /, \, <, >, ?, *, etc.) can be easily modified and will be used by the program to find and replace characters that are correct on Mac platforms but not allowed on Windows machines.
Correspondence table Signatures (Type/Creator) / Extensions is easily editable for characters to use in name substitution
Can truncate windows filenames longer than 31 characters , allowing to view these files from Macintosh more friendly than DOS shortnames (8+3).
Can rename files and sub-folders
Can analyze batches of Macintosh files signatures in selected folders.
Setting time interval for update. Each folder can be processed using its specific interval for update
Setting performance
Stores in Log files the list of files renamed.
When a folder becomes unknown (folder removed or renamed, lack a connection with a file server, etc.), MacNames can send different kind of warnings: beep, display message, send a message to an administrator, messages in the Log, messages in the Applications EventLog (when MacNames is running as a Windows NT service).
Languages: English, French - Runs on Windows NT 4.0 or Windows 2000 or Windows XP
RELATED SOFTWARE DOWNLOADS FOR MACNAMES