LinkStash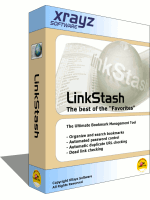 LinkStash is an Ultimate bookmarks/favorites manager that works with Internet Explorer, Firefox, Netscape and Opera. Just 5 minutes with LinkStash and we are betting you will never want to use the Internet Explorer Favorites, Firefox, Netscape and Opera bookmarks again!
LinkStash opens and closes with your browser. Using LinkStash means you can store and organize all your favorite links in a familiar Explorer-style tree arrangement. With fields for tags, comments, ratings, passwords, date last visited and so on, your links are easily edited, maintained and kept up to date. Clean up your links with the dead link checker. Synchronize your LinkStash bookmarks with IE Favorites. Keep your bookmarks private by encrypting the whole bookmark file, then take your bookmarks with you on a portable flash drive.
Software Information
System Requirements
Version:
2.1.2

Windows 7/XP/Vista/2003/2000 (32-bit and 64-bit support)
512 MB RAM

License:
Free to try, $24.95 to buy
File Size:
1.57 MB
Screenshot :
View Screenshot
Rating :
Below are just a few of the many handy benefits LinkStash offers:
All bookmarks are kept together in one single file, easily fitted on the average floppy diskette. This means your bookmarks are totally portable and can be taken to and from work, and easily synchronized between computers.
Import your current bookmarks/favorites from all the recent versions of Internet Explorer, Opera and Netscape.
Organize your bookmarks easily and efficiently using drag and drop, a configurable keystroke or the handy toolbar buttons in LinkStash or on the Internet Explorer toolbar. Sort on any column header.
Folders can be organized into any custom order by drag and drop. Previously, the folder list was permanently sorted alphabetically. Your custom order can be retained using the new command View > Arrange Bookmarks By > My Order.
Linkstash now combines the functionality of a top notch bookmark manager with complete automated password control. Store all your passwords safely and securely encrypted in LinkStash, protected by a master password and enter complete username/password information on any web site login page with a common configurable keystroke!
Deleted bookmarks are moved to a Deleted Bookmarks folder enabling you to retrieve them should they be accidentally deleted.
Store rich-text information for each bookmark, such as comments and ratings.
No more wading through the aggravation of endless cascading menus. LinkStash has total recall as to the collapsed or expanded condition of your bookmark folders and subfolders. If you shut down your computer with LinkStash open to your Music folder, next time you open it again it will be right back in the same folder. And you can collapse all or expand all folders/subfolders at a single click!
Search Results are now conveniently displayed in a search results folder. These can be copied, edited, highlighted, moved, etc.. You can even sort the Search Results by URL, rating, comment, etc., or search within the search results using Find Next.
Automatic duplicate checking helps prevent you adding the same URL twice. You can check your bookmarks for duplicated URLs at any time.
Make those important bookmarks stand out. Using LinkStash highlights you can set visual traits such as background colour and font style for each bookmark. You can do the same for folders too.
LinkStash uses far less disk space to store your bookmarks than IE (Internet Explorer). This is because IE stores each bookmark as a separate file, which means wasted space because each bookmark will be at least the size of one cluster, 4KB for example (as much as 32KB for each one in Windows 95!) Here's a typical example: for 531 bookmarks, IE uses a minimum of 2.14MB storage space, while LinkStash uses just 15KB.
LinkStash keeps multiple backups of your LinkStash bookmark file ensuring your bookmarks are safe.
Email all your bookmarks to a friend, directly from the LinkStash File menu.
Configure LinkStash's toolbar with any of dozens of handy toolbar buttons.
Publish your bookmarks on a website by exporting your bookmarks directly now as an HTML file.
Print your bookmark folders in a configurable printing setup (new in v1.1).
LinkStash ships with hundreds of useful bookmarks, from books and florists to sports and travel.
*** A dead link checker finds bookmarks that point to websites that are no longer working or where the URL has changed. Nobody wants a bunch of bookmarks that point to non-existent websites. LinkStash can repair these dead links.
*** Take LinkStash and your bookmarks with you on a portable device such as a USB pen drive.
*** If certain websites look best with a specific browser you can configure a bookmark to open with a specific browser.
*** LinkStash has a large bookmark notes text box specifically for writing long comments.
*** Tag (a tag is a relevant keyword associated with a bookmark) bookmarks to categorize them and later search for bookmarks by their tag.
*** If you find that you often do the same searches over and over again then you can save the search criteria. With a couple of clicks you can activate any saved search instantly.
*** If your bookmarks contain sensitive information LinkStash can encrypt the bookmark file with strong encryption. This works especially well if you carry the bookmarks on a USB pen drive, if it's lost you can be assured nobody will be able to view your bookmarks without knowing the master password.
RELATED SOFTWARE DOWNLOADS FOR LINKSTASH