JFormula Mathematics Expression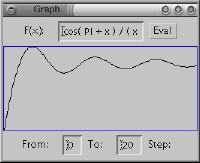 JFormula Mathematics Expression is a library for evaluating various mathematical expressions. User can evaluate instantly a string setting variables, adding its own functions or operators.
JFormula Mathematics Expression manages several lines expression. Each line is a sub-expression that can update the symbol table. When a sub-expression update the symbol table, JFormula calls setValueForSymbol with the new symbol result.
JFormula Mathematics Expression lets you inserting your mathematical library. A library is based on the Lib interface. This interface gives you accesses on a set of functions. Each function has a name and a set of parameters support. A parameter is a "String" "Boolean", a "Double", a "BigDecimal" or a "List" value, both types are inside the Variant object. These functions are independant of the Formula resolver.
Software Information
System Requirements
Version:
3.6

Windows 8/7/XP/Vista
512 MB RAM

License:
Free to try, $199.00 to buy
Download Size:
502 KB
Screenshot :
View Screenshot
Rating :
Key Features of JFormula Mathematics Expression:
Decimal, string, boolean operators (or, and, not, xor...)
Unicode
High precision mode
Boolean expression support : (A < B)&&( B > C), (A or B) and not ( C equals D )
IF THEN ELSE expression
Short expression format : 2x+3y
Variable : A=(cos(PI + x )*2) + [y-x]^2
Multiple lines expression : A = 1 B = A + 1 ...
Functions with decimal, boolean, string or list arguments
Override or add your operators
Extend or add a new library dynamically
Override any functions from the current library by your one
Lazy evaluation for boolean expressions
Evaluation tree produced by a pluggable parsing system
Evaluation optimization for symbol value changes
Standard library with 24 mathematical functions
Use delegates for resolving unknown functions or symbols
Support for multithreaded computing
Many samples (library extension, graphes) for API interesting parts
JDK 1.1 compliant (tested on JDK1.1.8, JDK 1.4 and JDK1.5)
RELATED SOFTWARE DOWNLOADS FOR JFORMULA MATHEMATICS EXPRESSION