icXL for Mac

The Ultimate Mac Viewer and Converter for Excel, AppleWorks & ClarisWorks Spreadsheets.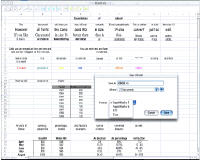 icXL for Mac - Admit it. There are times when you need to be Microsoft® Excel compatible. If you do not have Excel installed or even if you have installed an old version, it gets frustrating trying to open those ".xls" files. Now you can open any Excel file with icExcel!

Without buying and installing Microsoft® Excel, icExcel enables any Mac user to: Gain access to Microsoft® Excel files (PC or Mac created) View downloaded Excel files from the Internet Open email attachments from PC users View on screen and print Excel spreadsheets with their original formatting preserved.

icExcel works under Mac OS 7.1 through Mac OS X (10.2 to 10.4) and is an easy solution to your "incompatibility" problems.




Software Information
System Requirements
Version:
3.0X

Mac OS X (10.2 to 10.5)
128 MB RAM
20 MB Free Hard Disk Space

License:
Free to try, $19.95 to buy
File Size:
2.30 MB
Rating:


icExcel for Mac Features:

icExcel enabls you to work with Microsoft® Excel spreadsheets created on both PCs and Macs. With icExcel, you can open, view and print Excel and AppleWorks spreadsheets without installing Microsoft® Excel on your computer!
icExcel displays the entire contents of the original Excel spreadsheet. It is a "text only" readable solution.

Dynamic viewing lets you
Scale from 25% to 400%
Search for words in text
Navigate with Jumpmarks
Customize font matching
Turn warnings on/off
Resize any column or row
Open all these formats
AppleWorks 5*
AppleWorks 6*
Microsoft Excel XML format
Text (csv, tsv)
RTF
* Text, styles and pictures only

Install icExcel 2.2 on System 8.6 and up with a minimum of 8MB free RAM. Users of System 7.1 through 8.5 can still purchase and use icExcel 1.0.

icExcel help you keep your Mac virus-free!

When a virus is hidden within an Excel spreadsheet, it is activated via a macro (a series of commands that automate tasks) embedded in the document. Since icExcel does not execute any macros, you may use icExcel without fear of infection, even if the original Excel spreadsheet contains a virus.

Navigate with Jumpmarks

Jumpmarks are are cells or cell areas which were explicitly referenced by name in the original Excel document. icExcel creates Jumpmarks automatically to help you navigate your document more quickly and efficiently.

Customize font matching

icExcel has a sophisticated font matching mechanism that displays the font closest to the one used in the original Excel document. You can easily customize the font substitution mechanism in order to improve screen viewing and to facilitate exporting the text to other applications.




RELATED SOFTWARE DOWNLOADS FOR ICEXCEL FOR MAC