Gnostice PDFtoolkit ActiveX/.NET Pro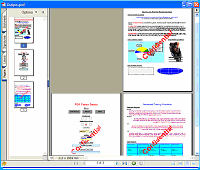 Merge, Split, Overlay, Stamp, View, Print PDF documents.
Gnostice PDFtoolkit ActiveX/.NET is a versatile PDF document management, viewing and printing component set for Microsoft Visual Studio, Microsoft Visual Studio .NET, Microsoft Visual FoxPro, Borland Delphi 8 .NET, Borland C#Builder, and other ActiveX and .NET compliant development platforms.
PDFtoolkit supports viewing and printing, filling and reading of PDF forms, compressing, securing, appending and merging of multiple PDF documents, stamping, building Table of Contents, setting bookmarks, and many more functions that can be performed on PDF documents - without the use of any external PDF software!
What does PDFtoolkit provide?
PDFtoolkit provides a control that you can place on your form and connect it up to the document you want to manage, alter, or organize. Once you've set the appropriate properties and loaded your document, you can call methods on the control to perform any PDF management task. Created documents can then be automatically delivered directly to users' web browsers, sent as email attachments or saved to disk. The screen shot on the left shows how three existing PDF documents can be opened, merged, rubber stamped, secured with a password and saved to disk as one document. The screen shot on the right depicts the new, merged PDF document.
Software Information
System Requirements
Version:
1.0

Windows 8/7/XP/Vista
Pentium 200Mhz
512 MB RAM
12 MB Hard drive space

License:
Free to try, $349.00 to buy
File Size:
5.30 MB
Screenshot :
View Screenshot
Rating :
Why use Gnostice PDFtoolkit?
View and Print PDF documents from within your application.
Modify and Re-organize PDF documents by adding new text, images, bookmarks and annotations, deleting pages, appending pages and more.
Enhance PDF documents by activating links in content, inserting headers and footers, stamping page numbers, inserting document events and more.
Automate reading of filled PDF forms and capture data accurately in the format you want, processing thousands of forms in seconds.
Automate filling of PDF forms with constant data or unique data picked up from any data store, and distribute the filled forms in one go. An indispensable feature when you have to process and email thousands of forms to users across the globe.
Stamps and Watermarks - apply markings that can appear on or below document content to indicate specific uses or restrictions on the document such as "Confidential", "Draft", etc or set the company logo as a watermark on all pages or selected pages of the document.
Automate extraction of document meta data (or document information) and save it to a data store, enabling fast searching and retrieval based on document information elements. An extremely useful feature for implementing document archival/retrieval functions in your applications.
Perform any kind of PDF document management, manipulation and reorganization task in batch or real-time from your application to automate document workflows.
key features of Gnostice PDFtoolkit ActiveX/.NET Pro:
View and Print PDF documents
Fill and Read PDF forms (also known as AcroForms)
Append and Merge multiple PDF documents
Secure PDF documents with passwords and set access permissions
Insert pages from one PDF document to another
Extract pages from a PDF document to make new ones
Set bookmarks with unlimited nesting levels
Set watermarks and rubber stamp documents
Set thumbnails
Save final document to memory, HTTP Response, or disk
Main Benefits for Gnostice PDFtoolkit ActiveX/.NET Pro:
View and Print PDF documents from within your application.
Access and set form values and fields directly from your application programs. Highly beneficial when required to deliver an integrated solution for user needs.
You can take multiple PDF documents created from different sources or at different times and make a single document that is much easier to use and deliver.
Restrict information to the intended audience permitting only the tasks that users were intended to perform.
Insert supplemental information to an existing document in the appropriate places and deliver information as one single document.
Supply a single easy to deliver document with all information and segregate it at the processing end to delivery specific information to specific users.
Make existing documents more useable by associating pages with thumb images that users can easily relate with.
Make existing documents easier to navigate and browse by building a Table of Contents with links to pages by topic names.
Designate a document as "Confidential" or "Draft" by specifying text and images to stamp on each page of the document, or underlay the company logo as a watermark.
Perform operations on the PDF documents and finally deliver them directly to the user's browser window without the need to store on disk, or save the document to a disk file for later distribution.
RELATED SOFTWARE DOWNLOADS FOR GNOSTICE PDFTOOLKIT ACTIVEX/.NET PRO