GadgetTrak BlackBerry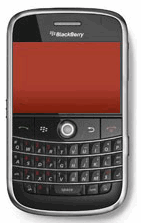 To many business users their BlackBerry® is their lifeline, containing all of their business contacts and other important information. What if your BlackBerry was lost or stolen?
GadgetTrak BlackBerry is the most advanced theft recovery and data protection software available for the BlackBerry platform. If your device is lost or stolen you can remotely wipe data from the device, locate it, lock it down, trigger an alarm and more.
GadgetTrak® Mobile Security provides multiple layers of security to your smartphone in the event that it is lost or stolen. If your phone is lost or stolen our software enables you to send a remote SMS or email message to your phone which will wipe all sensitive information from the device. If you believe the phone has been stolen and the thief is still in the area, you can send an SMS or email message to the device to lock the device up and signal an alarm that the thief cannot turn off.
Supported BlackBerry Devices: Bold, Pearl, Curve, 8800 Series, 8700 Series.




Buy Now $24.95 USD
Software Information
System Requirements
Version:
New

Operating System: BlackBerry 4.2 and above(Java)
GSM network: Example: T-Mobile, AT&T
Note: CDMA networks such as Verizon and Sprint are not supported.

License:
Free to try, $24.95 to buy
Download Size:
6.00 MB
Screenshot :
View Screenshot
Rating :
GadgetTrak® BlackBerry Anti-Theft Software enables full control of your device and data in the event of theft:
Remotely wipe the device and media card
Remotely wipe personal data stored on your device without requiring BlackBerry Enterprise Server.
Backup contacts.
Send all of your contacts to another phone before wiping the device
SMS notification on SIM change
Sends an new number assigned to the phone to a predefined recipient.
Lock device & signal an alarm
Remotely lock the device and signal an alarm the thief cannot disable.
GPS & Cell based device tracking
Send a remote command to have current device location sent to you
Tamper proof
Password protected configuration.
Send a message to thief
Remotely send a custom message that appears on the screen.
Remote call back
Remotely initiate a call to the number of your choice.
RELATED SOFTWARE DOWNLOADS FOR GadgetTrak BlackBerry