EZ Document Safe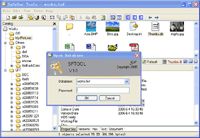 EZ Document Safe can backup and sync your working project files with version tracking, manage your photos and documents in catalogs and tags, and protect your private files with double encryption, keep your sensitive data safe from being found or viewed by other users in shared or unshared computers.

EZ Document Safe is a software system with powerful encryption and management ability. If you have plenty of documents or photos or project files to manage, you may find this software helpful. EZ Document Safe provides a easy way to classify, tag, catalog, sync, preview and search files, track your project files with versioning control. At the same time it can really protect your files. All files are deeply encrypted. And for most important files, you can even specify a secondary password to encrypt them twice.




Software Information
System Requirements
Version:
V2.01463

Windows 9X/NT/ME/2000/XP/2003
486 CPU or higher
32 MB RAM
20 MB free disk space

File Size:
4.02 MB
License:
Free to Try, $21.95 to Buy
Screenshot:
View Screenshot
Rating :
Fast and easily to import any content from the internet or the local file system, including:
Web pages (HTM, HTML, SHTML, MHT)
Microsoft Office documents (DOC, XLS, PPT)
Digital photos, images (JPG, JEPG, BMP, PNG, GIF, ...)
Adobe PDF documents (PDF)
Program source code(C, CPP, JAVA, PAS, ...)
Pure text(TXT, INI, LOG, ...)
And others more.
Keep everything in one place, any web pages, documents, images, notes, or texts can be easily organized, edited, annotated, and found when needed.
Fast preview and edit - needn't decrypt for all data to view a file:
Thumbnail icons preview for images
HEX code preview and text preview, with unicode support
Preview function for images, PDF, HTML, WORD, EXCEL, and PPT files
Built in HTML and TEXT editor.
Special layout for preview, thus speedy navigation of your data of different formats in a single pane has never been so easy
Easy to use, friendly user interface:
The program is fully integrated in a single navigation pane
All the features are accessible at any time
Group by folders, easy to classify
windows-explorer-similar interface
Full Drag and drop operations support
Enhanced security features:
Uniform password check for login, you needn't remember too many passwords
Keyboard disturbing when password needed, to prevent passwords from being intercepted and captured by spy wares. Though there are other ways to protect the password input, but we found that disturbance is the finally solution that will really work.
Fast and strong encryption technique with AES arithmetic, which is widely considered as the most powerful encryption algebra
Double password protection - you can specify a second password for the most important data, which will be used to encrypt the file (name, size, date and content) again with DES arithmetic
MD5 check to verify files
All passwords you specify will be treated as MD5-hash-code and will not be stored in any place
Auto-increment-backup and system-crash-down defence technology. You needn't worry about a system crash will damage the database and make it entirely unusable when you are changing your password or making other important changes such as modifying files or setting the double-password protections. In such cases the operation will be rolled back automatically.
Divisional data files that each can be opened alone, so that even if some of them are broken, you still can save the other files
Alive action detection - if there is not any activity in a long time, the current database session will be protected by password or closed automatically.
USB-Key-File - encrypt and store your password into a key file and save it in USB device, and use the key file to open the database instead of entering password.
For those who won't trust our encryption algorithm, they can write their own algorithm to a simple DLL program, and register it to EZ Document Safe, so all the data will finally be encrypted with their very special algorithm
Built-in search engine:
Search by file name.
Search by file size, date, and attributes
Search by content: support for text files(TXT) and others: DOC, XLS, PPT, PDF, HTML, MHT, etc
Working file synchronizations:
Auto remember the import path as working directory
Enable filter to just sync useful files
Working files to verify, sync, check in and check out.
Automatically record versions when checked in, and history can be reviewed by anytime
Database import/export functions.
100% Portable, 100% Green:
EZ Document Safe can be installed onto or started from any portable storage device, so you can carry it around and access all your valuable information anywhere.
Just copy the program to portable device and you can run it from another computer. No extra support file needed.
RELATED SOFTWARE DOWNLOADS FOR EZ DOCUMENT SAFE