DEVONthink Professional for Mac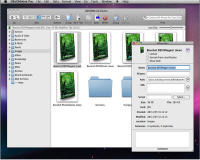 In today's world, everything is digital. From shopping receipts to important research papers, your life often fills your hard drive in the form of emails, PDFs, Word documents, multimedia files and more. Questions eventually pop up, like where do you store all of this stuff? How do you organize these very different file types, and even better, how do you find the exact file you're looking for the second you need it? It's almost as if you need a second brain just to keep your digital life straight. Enter DEVONthink: The solution to this digital age conundrum.
DEVONthink is the one powerful Mac document manager that help you collect and organize everything from emails to PDFs, regardless whether they're located on your Mac or on the web. DEVONthink intelligently stores your text files, PDFs, images, bookmarks, even QuickTime movies and MP3 files, and helps you organizing them. A hierachical filing structure and AI functions for sorting in and finding documents makes it ideal for both, keeping a simple notebook and organizing large information collections.
An integrated text and RTF editor including a real-time paragraph/word/character count and many other comfortable editing and higlighting functions make it easy to not only enter short notes but to write letters, articles, even books. Finally, the integrated Safari-based web browser displays web pages directly within the DEVONthink workspace, e-mails can be comfortably imported using a provided AppleScript and all documents that DEVONthink does not natively recognize can be "printed" directly into the database from any other application or at being least linked to like with an alias.
Software Information
System Requirements
Version:
2.3.5

Mac OS X 10.5 or later
512 MB RAM

License:
Free to try, $79.95 to buy
Download Size:
24.7 MB
Screenshot :
View Screenshot
Rating :
Unique Features of DEVONthink Professional for Mac:
Built-in Artificial Intelligence
Classify: Automatically files documents into the most appropriate group
See also: Shows similar documents
See selected text: Finds documents similar to a selected test passage
Topics: Automatically extracts the most important words of a text
Fuzzy search: Finds similarly spelled words
Powerful search function: Finds related words, as well as helps broaden or narrow any search
Intelligent summarize: Creates digests of texts based on the contents of the database
Concordance: Dig into your knowledge with this powerful analysis tool
Group documents automatically by content
Integrated Environment
Multiple views with an integrated view/edit pane, are available to fit your specific needs and tastes
Document-oriented web browser with download manager and site sucker
Powerful cross-links and automatic Wiki links for connecting documents
Transparency
DEVONthink never takes data hostage thanks to its flexible import/export architecture
Spotlight support embeds DEVONthink into your Mac ecosystem
Index and sync items when integrating external materials
Powerful Workflow Tools
Full AppleScript support
Automator actions
Folder actions
Scripts attachable to all items
Lots of useful example scripts and workflows
RELATED SOFTWARE DOWNLOADS FOR DEVONTHINK PROFESSIONAL FOR MAC