Argentum Coolbase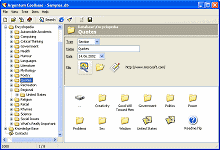 Argentum Coolbase is a versatile information manager that can keep any kind of information, such as text, numbers, links, pictures and music, in a tree outline database.
Argentum Coolbase can serve you as a note taker, a diary keeper, a recipe book, a personal contact list, a link organizer, a photo album, a text editor, and more. All these are nicely fit into one combined product that will make your life a lot easier. Save your money buying it all in one!
With Argentum Coolbase you will be able to seamlessly organize information of any type, construct your own dendritic structures, attach descriptions, use a powerful search, publish your data using HTML, XML and CSV formats to share it with your friends, colleagues, and anyone who could be interested in it.




Software Information
System Requirements
Version:
2.30

Windows 8/7/XP/Vista
Pentium or similar processor
64 MB RAM

File Size:
1.74 MB
License:
Free to try, $35.00 to buy
Screenshot:
View Screenshot
Rating:
More Screenshots


Click image to enlarge!
Benefits:
Coolbase interface is quite similar to the Windows Explorer interface and is therefore easy to learn and navigate.
In Coolbase you primarily work with trees full of items. Item is a foundational element of the tree. You can browse items in either the left pane or the bottom pane. It's up to you how to organize the information but majority of editing capabilities are only available from the bottom pane.
Besides structural modifications i. e. adding, deleting, moving items, Coolbase, like any other organizer, lets you fill your databases with actual information.
Searching for a particular item or property is very easy with Coolbase. To make a query, you should specify a text fragment you want to find.
With the publishing feature of Argentum Coolbase you will be able to prepare your catalog for public presentation, publish it to the Internet, send it through e-mail, or print it out and get a hard copy.
With Coolbase you will be able to:
Keep any of your data in a tree outline database. Construct your own tree structures and alter existing ones with the ease of a single click. Totally control the life cycle of the tree: delete, move, copy, append items and branches.
Precisely describe the content of your collection with the help of practical tree-like structure and unlimited number of properties using the following predefined types: string, paragraph, integer, float, date, time, check box, combo box, binary stream, file and link.
Adjust Coolbase properties not only for cataloging or collecting but also for any other purpose, where it is critical to deal with tree-structured (dendritic) and heterogeneous data. For example: business and personal organizers, information managers, notebooks of any kind, production catalogs, science applications.
Use the convenient and fast, search and filtering functions. Query for substrings using wildcards. Easily extract subtrees and complex subsets of content directly from existing trees. Dig through the tree by using both item filtering and property filtering.
Publish your dendriform content for reporting, deployment, and Internet presentation.
Estimate program usage and maintained trees by analyzing data, reported by statistical engine, available in Argentum Coolbase.
Navigate the easy to use Windows Explorer-like interface. The program has a collection of well-tuned dialogs and an extensive documentation.
Maintain simple trees at home and work for personal use. Maintain complex trees in corporate environments for extremely large archives of information. On a modern computer system Argentum Coolbase can hold up to 1.000.000.000 items per a single tree with up to 50 megabytes of data on a single item. The size of the database can be as large as 1 - 2 gigabytes, yet the format of database itself remains quite compact.
Evaluate the stability and very fast operation. We have made sure our product is fast, reliable and compact. It is written entirely in C++, using fully object-oriented project source code and has been carefully designed from the ground up. The modular source code makes the main property engine readily transferable for other purposes. The database engine logic is independent and separate so it can be easily ported to SQL environments. The underline database access engine used in Coolbase, is currently licensed by a number of businesses. We are open and ready to sell limited licenses for custom use at very affordable prices.
Expect new versions with enhanced features - the program is always under development.
Explore it and discover more!