ConceptDraw 7 Pro for Mac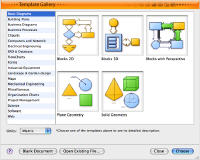 ConceptDraw 7 Pro for Mac is a powerful business and technical diagramming package for Macintosh. It offers powerful vector drawing tools, libraries with hundreds of pre-drawn shapes, built-in scripting language and many other professional features.

It is intended for drawing schemes and diagrams of different kinds: business diagrams and flowcharts, network diagrams and software charts, technical drafts, floor and landscape plans.
ConceptDraw 7 offers a wide choice of powerful and easy-to-use tools for quickly creating all kinds of charts and diagrams. Even if you've never used a drawing tool before, it's very easy to create high-quality professional graphic documents with ConceptDraw 7. That's possible thanks to the program's intuitive interface, comprehensive drawing capabilities, and many pre-drawn library shapes. Templates will help to quickly create most common documents.
At the same time the comprehensive professional features of ConceptDraw 7 allows you to develop graphical enclosures to various corporate solutions. Use ConceptDraw 7 to visualize and share information you work with every day, prototype new ideas, systems, and solutions.




Software Information
System Requirements
Version:
5.8

Mac OS X 10.4 or later
CPU: G3 or higher
256 MB RAM
500 MB Hard Disk Space

License:
Free to try, $299.00 to buy
File Size:
169 MB
ScreenShot:
View ScreenShot
Rating:
ConceptDraw 7 Pro for Mac Key features:
Web Site Development Project
Vector Drawing Tools
ConceptDraw 7 offers a set of vector drawing tools that can compete with any professional illustration program. Customizable Grid and Snap tools help to position your shapes precisely. A number of Alignment, Distribution and Make Same tools will automate routine operations with multiple shapes. Unlimited number of layers is supported.
Smart Connectors
Lines stay linked to their shapes, so you don't need to redraw your diagram every time you move something. Smart connectors can follow shapes around, as well as display gaps or bridges where they cross other connectors. Every shape can be turned into a connector. The automatic connection mode is also available.
Custom Connection Points
With ConceptDraw 7 Connection point tool you can easily add connection points to any part of the shape for more diagramming freedom.
Layers
You can use unlimited number of layers to organize related shapes in one document page. For instance, when you draw a house plan, you may locate electrical system on one layer, water supply system on the other one, etc. This makes work more convenient, and you won't accidentally alter shapes on other layers.
Libraries and cliparts
ConceptDraw 7 comes with dozens of collections of shapes to help you create a number of different types of diagrams, and drawings such as Network Diagram, Office Layout, Org Chart and more. It allows you to easily create your own customized drawing tools by drawing your own shapes or dragging the existing graphics onto a new library. The vast set of clipart allows you to illustrate your documents or presentations in a clear and vivid way.
Advanced editing
Powerful text tools
Most of shapes in ConceptDraw contain text. ConceptDraw offers extensive formatting capabilities, and various tools for work with text, such as adding text to a shape, editing shape's text, text searching, replacing, formatting and repositioning, adjusting shape's size to fit its text, text auto-expand mode, choosing size, color and font of text; alignment, margins and text background color.
Customizable toolbar and floating dialogs
Quick-and-easy access to main tools and settings with customizable toolbars and floating dialogs. ConceptDraw 7 adheres to the What-You-See-Is-What-You-Get principle and features anti-aliasing that brings your diagramming to a new level of presentation quality.
Creativity freedom
Color palette
You can use the standard color palette or a custom palette. You can set a palette for a shape, its text or other attributes or document.
Texture fill
This functionality allows you to create professionally looking objects by filling ConceptDraw shapes with one of the preset textures or any raster image of your own.
Alpha-channel (transparency)
The slider next to Hide Custom Color button allows you to add transparency to your objects in order to make them more attractive or enables you to see objects located underneath. Move the slider to the right to increase the object transparency and to the left to decrease it.
Droptool
It's now more convenient to select the necessary color of text, line or filling with the new droptool..
Smart customization
Custom Properties
In ConceptDraw 7, you can create custom properties for shapes. That is, a shape can act as a visual database field that stores data you can retrieve in a report. For instance, a computer shape in a network diagram can store data about the cost, model, inventory number, and system configuration. Custom properties data can be used in calculations in ConceptDraw Basic scripts. This is useful for creating automatic reports based on your drawings.
Intelligent Shapes
ConceptDraw 7 shapes are highly customizable. You can assign custom properties to them, add user defined context menus, and create links to other shapes, files or programs. ConceptDraw Basic scripts can be associated with shapes, providing virtually unlimited control over them.
Built-In Scripting Language
The built-in scripting language ConceptDraw Basic, and support of the open XML for ConceptDraw format, as well as a number of other formats, provides developers with powerful means of building complex customized solutions based on the ConceptDraw 7 graphics engine.
Measuring units selection
The fitted tool lets you select the measuring units of your charts or drawing just with one touch.
Seamless integration

ConceptDraw 7 allows you to import and export files in a large number of raster, vector, multimedia and text formats, making it easy to exchange data with other applications. In addition to the most popular graphic formats, it supports txt and ConceptDraw xml formats and export documents to PDF.

Cross platform compatibility

ConceptDraw 7 is the only professional diagramming software, that works on both Windows and Macintosh platforms. All its documents and libraries are 100% compatible and can be exchanged hassle-free between the platforms.





RELATED SOFTWARE DOWNLOADS FOR CONCEPTDRAW 7 PRO FOR MAC