Captain FTP for Mac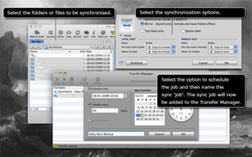 Captain FTP for Mac - Make FTP Simple.
Powerful, secure, user-friendly, FTP Client built from scratch for Mac OS X, with workgroup file-sharing in an attractive tabbed metal interface. It includes Turbo, Quick Connect, Synchronization, remote file editing, Virtual Folders, Resume, Bonjour, built-in viewers and many, many more.
Captain FTP enables you to take full advantage of services offered by FTP. Some of the implemented functions can be used to greatly facilitate improvements in everyday work.
Quite simply, the most advanced, the most open and user friendly design, Captain FTP shares tasks between separate threads, enabling you to set up an unlimited number of simultaneous connections. All time consuming functions such as uploading and downloading don't block or interrupt the program but leave it available for other user requests.
User action support realized by quick buttons, address book, prompts before deleting and renaming files, search tool, finishing action after reconnection etc. makes Captain FTP the safest and the most user-friendly FTP Client ever designed.
If you are one of the 30 million people who have grown accustomed to the traditional Mac OS (Classic) environment you will have to change the way you work. Hundreds of features you thought you knew have been moved, changed or relocated.
If you've never used a Macintosh before, none of this matters. You have nothing to unlearn. With Captain FTP you will find an extremely simple and beautifully designed application waiting for you.




Software Information
System Requirements
Version:
6.1019

Mac OS X 10.4 - 10.8 or higher
512 MB RAM or More

License:
Free to try, $29.00 to buy
File Size:
8.84 MB
Screenshot :
View Screenshot
Rating :
Key Features of Captain FTP for Mac:
Quick Connect
Get started quickly by connecting automatically to your favorite FTP site.
Accelerated Transfer
The transfer of large files is split into segments to vastly accelerate the transfer speed.
Security
Transfer files safely by using encryption protocols for transfers such as SSL-FTP/SFTP.
Multiple Connections
Upload/download files to/from unlimited multiple hosts simultaneously.
Auto-reconnect
Save time by automatically reconnecting to servers when the connection is broken.
Address Book
Don't waste time searching for FTP sites. Create customized profiles for all your favorite sites, consisting of local Network users, Public FTP entries, Private FTP entries, that can be shared between authorised users.
Captain to Captain direct Transfer
Allow Captain FTP users to connect and share files directly between each other, particularly benefiting business users or groups of users, who can share their work securely, privately, and quickly.
Transfer Manager
Manage transfers by prioritizing which files to transfer first, accelerate file transfers using segmented download, and view the status, and progress of all transfers.
Auto-Resume
When transfers are interrupted, there is no need to start from scratch, as CaptainFTP will continue from where the transfer stopped.
Virtual Folders
Save time by creating virtual folders of your favorite sites on your desktop. Simply drap 'n' drop the file on the virtual folder to transfer it, or groups of files.
Tabbed Graphical Interface
Greatly improved FTP session management, supporting multiple FTP connections, by opening new tabs for each new FTP session, and open as many as is needed in a single browser window.
Folder Synchronization
Synchronize or mirror entire folders/directories between local and remote sites in either direction through the Visual Browser Module.
RELATED SOFTWARE DOWNLOADS FOR Captain FTP for Mac