Ad-Aware SE Professional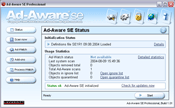 Ad-Aware SE Professional is designed to offers you the highest level of protection from known Data-mining, aggressive advertising, Parasites, Scumware, selected traditional Trojans, Dialers, spyware, Malware, Browser hijackers, keyloggers and tracking components. Lavasoft's CSI technology protects you from both known and emerging threat variants and gives you real-time protection for your computer with our advanced Ad-Watch real-time monitor.

Ad-Aware® SE Professional Edition also includes the process browser Process-Watch which allows you to browse, scan and analyze processes running on your system. You can easily scan for, and terminate known suspicious processes and their associated modules.



Buy Now $39.95 USD
Software Information
System Requirements
Version:
6.0

Windows 98/Me/NT/2000/XP/2003
Processor: P166
RAM: Operating system + 24 MB
Browser: Internet Explorer 5.5 or higher

File Size:
6.4 MB
License:
Free to Try, $39.95 to Buy
Rating :
Ad-Aware SE Pro Edition Features :
User-controlled spyware removal
Customizable Scans
Code Sequence Identification (CSI) technology
Extensive Lavasoft Detection Database
ADS scan.
Blocks browser hijackers.
Quarantine manager.
Real-time scanning.
Registry protection .
Executable file protection.
Process Watch module.
Advanced command line interface.
Supported languages: English, Catalan, Danish, Dutch, Finnish, French, German, Hungarian, Italian, Norwegian, Polish, Portuguese, Spanish, Swedish, Turkish.
RELATED SOFTWARE DOWNLOADS FOR AD-AWARE SE PROFESSIONAL