Ad-Aware 2007 Plus Edition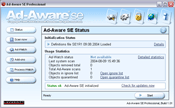 A basic 'scan and fix' for spyware and malware may be enough for many home computer users, but the savvy home user and small business owner wants and needs something more... real-time scanning.
Ad-Aware SE Plus is an anti-spyware software designed to provides consumers and small businesses with the high level of protection offered by our Ad-Aware SE Personal plus real-time monitoring capabilities by adding the Ad-Watch real-time monitor to the background. Real-time monitoring means that your computer is protected in real-time, all the time!




Buy Now $26.95 USD
Software Information
System Requirements
Version:
6.0

Windows 98/Me/NT/2000/XP/2003
Processor: P166
RAM: Operating system + 24 MB
Internet Explorer 5.5 or higher

File Size:
6.4 MB
License:
Free to Try, $26.95 to Buy
Rating :
The Ad-Aware 2007 Plus Edition allows you to:
Scan fixed and removable drives, memory and Windows registry.
Ad-Aware SE Skins allow you to select a customized skin to give your edition of Ad-Aware a unique look and feel.
Protect against aggressive adware, browser hijackers, data miners, dialers, DLL injection, keyloggers, selected Trojans, tracking cookies and many more types of malicious content.
Block registry modifications and malware installation attempts in real time
Detect not only known but also unknown variants of malware by using the Code Sequence Identification (CSI) technology
Automatically update reference file
Take advantage of a fully featured quarantine support
Customize operation including setting up schedules for scan and reference file updates
Log information about scans and malicious content removals.
Ad-Aware 2007 Plus Edition Features :
User-controlled spyware removal
Real-time scanning
Customizable Scans
Blocks browser hijackers
Quarantine manager
Code Sequence Identification (CSI) technology
Extensive Lavasoft Detection Database
ADS scan
Registry protection
Executable file protection .
Supported languages: English, Catalan, Danish, Dutch, Finnish, French, German, Hungarian, Italian, Norwegian, Polish, Portuguese, Spanish, Swedish, Turkish.
RELATED SOFTWARE DOWNLOADS FOR AD-AWARE 2007 PLUS EDITION