Account Xpress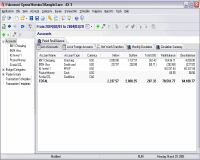 Account Xpress is a personal finance manager and budget planner designed to help you manage your money easily and efficiently.
In the hi-tech world in which we live today, it is hard to imagine anyone planning a budget and keeping track of their expenses without the help of a personal budget software. However, the reality is even much worse. Most people know how much they earn but hardly have any idea how much they spend. In fact, statistics show that most Americans spend 10% more than they make and the average credit card debt has reached $8,500. With the average credit card interest rate at 18.9%, it is not surprising to see that personal bankruptcy filings are steadily rising. On average, American families carry more debt today than at any time in United States history.




Software Information
System Requirements
Version:
3.3.5

Windows 98, ME, NT4, 2000, XP, Vista
486DX, 66MHz or higher processor
SVGA monitor with High Color (16 bit)
Works with printer supported

File Size:
1.39 MB
Screenshot :
View Screenshot
License:
Free to try, $39.98 to buy
Rating :
Key Features for Account Xpress:
Account XpressTM is a personal finance software loaded with features designed to help you manage your money easily and efficiently. Track and reconcile transactions for virtually any kind of account (credit cards, savings, checking, credit line, cash, etc.). Budget management is made easy with the help of user-defined income and expense budget categories, budget projections, and budget versus actual comparison reports. A tree view structure helps you access the information you need quickly and easily.
Features include presentation of a global cash flow picture, calculation of net income over any given period of time, two distinct methods for managing your budget, transaction splitting into many accounts and/or budget categories, transaction schedules, transaction templates, support for multi-currencies, unlimited number of budget category levels, numerous charts and reports related to your financial and budget activities.
Create recurring transactions that are generated automatically at the proper time. Define and use transaction templates to quickly create transactions that recur at irregular intervals. With budget projections, you can now tell exactly when and how much you are planning to earn or spend on any budget category. This is very similar to using the old envelope budget system. Password protect your data files with 128-bit encryption to prevent unauthorized access to your financial information. Download your transactions from your financial institutions and import them into Account Xpress from Quicken Interchange files (qif) or Open Financial Exchange files (ofx and qfx). Copy selected entries from any lists in the program to the clipboard for pasting into other applications such as Word or Excel.
Category and payee management is simplified with the ability to easily merge together two budget categories or two payees at any time. Re-locate budget categories and payees in the tree view with simple click-and-drag operations. Backup your Account Xpress files automatically with the new backup feature. Know where your money goes, eliminate debt and be on your way to financial freedom with Account Xpress.
Account Xpress benefits anyone serious about controlling their personal finances, and managing their budget.
RELATED SOFTWARE DOWNLOADS FOR ACCOUNT XPRESS