123 Synchronizer for ACT! and Outlook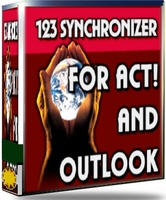 123 Synchronizer for ACT! and Outlook is your best synchronization solution for ACT! and Outlook to synchronize, convert, update, and transfer an ACT! Contact database into multiple individual or shared Outlook Folders to synchronize ACT! Enhanced filtering system and options allow you to slice which segments of the ACT! database that you want to bring over to Outlook. 123 Synchronizer also can synchronize ACT! with Blackberry, iPhone, Treo, Windows Mobile and much more!
123 Synchronizer for ACT! and Outlook has the function of synchronization of ACT! Contacts, Meetings, Todo's, and Calls. with Outlook contacts, calendar and tasks. It also synchronizes Notes from Outlook Into ACT!. You can now enter a note in the Contact Body Text and then the note is synchronized back to the contact in ACT!. Great feature if you are using ACT! and want to enter data into your PDA.
123 Synchronizer has unrivaled ACT! History to Outlook Contact Body Text mapping feature. Convert all the ACT! History and Notes items to the Outlook contact body text. With size limitation settings, you can control how much data is entered into the Outlook Contact Body Text. This is a great feature if you want to transfer the contact's history to your PDA. In addition, every history item's owner is listed with the text!
123 Synchronizer can be integrated with Outlook. Closely integrated with Outlook for easy of use and fast conversions. In addition, you don't get the persistent Outlook security warnings during the conversion.
123 Synchronizer 2010 Edition is the fastest conversion tool around, in most cases 2000% faster than the closest rival. Once the first conversion is done, updates are fast.




Software Information
System Requirements
Version:
12.4.0.40

Windows Vista/XP/7
ACT! 2007, 2008, 2009, and 2010
Outlook 2000, 2003 and 2007

License:
Free to try, $125.00 to buy
File Size:
70.9 MB
Screenshot:
View Screenshot
Rating :
Key Features of 123 Synchronizer for ACT! and Outlook:
Synchronize ACT! and Outlook. You can either synchronize manually or in the background, 123 Synchronizer will keep both your ACT! and Outlook contacts, calendar, tasks, notes, and history in Sync.
Support of one-way updating or two-way full synchronization between ACT! and Outlook. Update, merge, or transfer contacts and their respective histories (and their owners), attachments, todo's, calls, meetings, etc..
Unmatched Outlook and Exchange Folder Management:

Map sets of Outlook folders to individual users
Share Outlook Contact folders amongst multiple users
Share Calendar Folders and identify users within the folder.
Exchange Compatible. We have tested the software in the following exchange configurations:

On a desktop with Outlook and the exchange mailbox accessible via the Outlook interface
On a desktop with the folders on a Public Exchange folder
On a server with exchange mailboxes accessible via the exchange profile
On a server with exchange public folders
On a hosted Exchange environment where you login via the Internet with Outlook to access the Exchange folder. Running the software using the windows scheduler in the background in exchange and much more. AND IT ALL WORKS!!!!

Single Client-Side configuration or Server-Multi-User Configurations. Run the software on your PC/Laptop or run it on an exchange server to process multiple users.
Reverse Sync Commands. Send commands via the Calendar/Tasks body text and instruct ACT! to clear the calendar item and create a history entry for the calendar.
History Filtering. Filter out which history items are brought over.
Background and Foreground Processing. Setup the software to run in the background without any user intervention.
Map User defined ACT! fields into Outlook Fields and vice versa. Unlimited user fields mapping capabilities from ACT! to Outlook and back. Remember, read-only user defined fields in Outlook cannot be mapped to be updated.
Field Merge ACT! and Outlook databases. If you have been maintaining two separate databases of ACT! and Outlook, 123 Synchronizer enabled you to field merge these databases.Bring over the hierarchical ACT! Group definitions into Outlook Categories
New duplicate/merging mechanism! Sync with an existing ACT! database with an existing Outlook Contacts, Calendar and Tasks folder and have no duplicates!
Customizable FileAs field in Outlook so that you can create Outlook contacts with any FileAs field as you see fit.
Synchronization of Notes/History to Outlook Contact Body Text
Secondary Contacts. Add all the secondary contacts to the Outlook Body Text for easy access and retrieval.
RELATED SOFTWARE DOWNLOADS FOR 123 SYNCHRONIZER FOR ACT! AND OUTLOOK