Cosmo Lines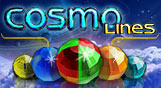 Has your passion always been to travel and see mysterious worlds? Do you dream about seeing all the beauty that outer space has to offer? Make this reality in the nearly endless Universe within CosmoLines! Open the mystical Star Gates that stand before you and explore the depths of the Galaxy playing the most addictive and fun puzzle game ever!

Like all classic puzzle games, CosmoLines will keep you hooked for hours, offering challenging puzzles and fun new solutions. The game is very easy to learn and play. All of the action takes place on a field filled with multi-colored gems that grow and disappear as the game progresses. You can move the gems around the field and arrange them into horizontal, vertical and even diagonal rows. As soon as three or more gems are in a line they disappear and others start to grow. Your goal is to destroy enough gems to get to the next level and get as many points as possible. Keep a look out for combos! There are bonus gems and items that help you progress more quickly and get a higher score! See how many different combinations you can find!

In Cosmo Lines you will find a smart puzzle game, brilliant graphics, relaxing music to help you concentrate, and addictive gameplay. With all of these and more you will be given the unique chance to explore the mysterious depths of outer space while solving challenging and fun puzzles at the same time in three different games modes.

Cosmo Lines is perfect for the entire family. It is fun to play for both kids and parents. Challenge each other to see who can get the farthest! The best part is that you don't even have to read the manual to play. A few quick instructions and you'll be exploring immediately.




Software Information
System Requirements
Version:
New Version

Windows 8/7/XP/Vista
Pentium II 500 or better
Direct3D compatable video card
512 MB RAM or better
DirectX 8.1 or higher

Genre:
Puzzle
File Size:
7.60 MB
License:
Free to try, $9.99 to buy
Rating :
Key Features of Cosmo Lines :
3 game modes (arcade, puzzle and classic) with absolutely different but still addictive gameplay.
Original bonuses which will make your game a lot of fun.
Secret levels in every game mode.
Splendidly crafted graphics with gorgeous backgrounds, which portrays far and mysterious space worlds.
Relaxing music and impressive sound effects.
More Cosmo Lines Screenshots - Click each image to enlarge!