Congador Dominion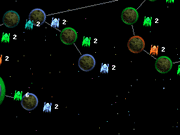 Congador Dominion is a turn based strategy game. You fight against up to 7 AIs to conquer a whole galaxy. All the computer opponents have their own personality and you can adjust to their behaviour by customizing your player with some 30 special abilites: Add first-turn bonus armies, train saboteurs and spies, get an attack bonus, or choose omniscience to know about enemy troops on even the most far away planets. Find out where to best defend, how to attack, what planets should be sacrificed, and explore some twenty galaxies of all shapes and sizes.




Software Information
System Requirements
Genre:
Strategy

Windows 95/98/2000/ME/XP
Pentium II
64 MB RAM
10 MB disk space

File Size:
844 KB
License:
Free to try, $24.95 to buy
Rating :
Congador Dominion Main Features:
Battle a dozen unique AIs.
More than thirty special abilities to select.
Gameplay is quick and easy to learn.
Five difficulty settings make the game challenging for players of all skill levels.
Three classes of planets.
SF-MIDI Music and sound effects.
Huge starmaps guarantee hours of fun.
Turn tracking gives extra replay-value
Additional Registration Benefits :
A bundle of new and exciting galaxies.
Thousands of starting positions for every galaxy.
Get free technical support.
Get if fast with instant download.
Efficient gold version interface
More Screenshots - Click each image to enlarge!