CodeLobster - Handy Code Editor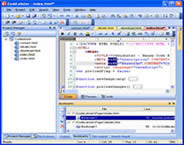 The CodeLobster product is intended for quick and easy creating and processing code! The CodeLobster is a handy and easy-in-use code editor which supports such file formats as TXT, CPP, JAVA, JSP, PHP, PL, ASP, HTML, CSS, XML, XSL, JS, VBS, SQL. Also this general purpose application allows user to convert HTML files into JSP, PHP, PL, ASP ones and vice versa - JSP, PHP, PL, ASP files into HTML ones.
Program builders provided the editor with an extra feature: now creating a *.html, *.java,*.php, *.pl, *.asp,*.xml, *.xsl file one can see the outcome at once by means of the "Preview" command. Four built-in ad hoc toolbars comprise over 60 helpful tools, commands and menu which make usage of CodeLobster yet more comfortable. Enjoy processing code with CodeLobster!
Software Information
System Requirements
Version:
3.0

Windows 8/7/XP/Vista
Pentium II CPU
512 MB RAM

File Size:
2.34 MB
License:
Free to try, $34.95 to buy
Screenshot:
View Screenshot
Rating :
Main Features of CodeLobster Code Editor:
Autocomplete for HTML, CSS, PHP, JavaScript, VBScript
Bookmarks are easily navigated owing to ad hoc window where all of them are grouped by files
Case converting for tags and attributes
Context help for HTML, CSS, PHP, JavaScript, VBScript allows to work with local sources as well as with online references (e.g. local MSDN and msdn.microsoft.com for HTML, JavaSript and VBScript; php_manual_en.chm and www.php.net for PHP; local MSDN and www.w3c.org for CSS)
Code collapsing like the one in MS Visual Studio for all supported languages including HTML and XML
Code comment/uncomment for all supported languages
Advanced code formatting allows to put any code in typical order, which is particularly helpful when working with HTML files
Conversion of chars to entities and vice versa
Conversion of HTML code to ASP, JSP, Perl, PHP functions and back
Support of different text encodings and WIN/UNIX/MAC text format
Execution of scripts: JavaScript, VBScript and Windows Script Host
Easy-to-use file explorer dockable control with FTP/SFTP support and output window
Find & Replace combined dialog
HTML validator on W3C
HTML Tidy tool with output window
Macro recording
Project Manager enables simple handling of whole projects
Quick selection of current block and navigation along it is eminently useful when working with HTML files
Spell-checking with English dictionary
Supported formats: Text, HTML, CSS, JavaScript, VBScript, PHP, ASP, C#, Perl, Python, Java/J#, Jsp, XML, XSL, C/C++, SQL, Action Script
Templates for all supported file types
Transliteration allows to aviod repeated input when you forget to switch keyboard layout
Visual style customization: Windows 2000, Windows XP, Office 2003, Visual Studio 2005 and Classic styles