Enhanced HTML Editor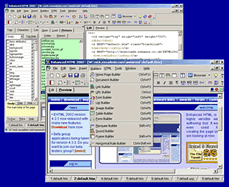 Enhanced HTML editor is a complete solution for creating and updating web pages within a matter of hours.

It includes an array of simple, intuitive wizards that will enable you to construct almost all web page components without all the usual headaches and hassle. In no time at all you will be achieving smart, professional results with ease.

Enhanced HTML Editor also provides you with the highest levels of support through web page templates, step-by-step tutorials and online user forums. Support is always at hand to help develop your website and skills as a web author.
The package also includes a complementary FTP program with easy to follow tutorial that will allow you to publish your creations for all to see on the Net.
For the beginners out there EHTML now includes a free WYSIWYG editor within the main program. You can now simply edit your web pages like a word document or load web pages from the Net, edit them in seconds and then upload them again to the Net using the in-built FTP. Web authoring has never been easier.



Download Trial 7.29 MB
Software Information
System Requirements
Version:
4.4.7.0

Windows 7/NT/2000/XP
Pentium 75 MHZ or higher processor
Min. of 128 MB RAM 10 MB Hard Drive

File Size:
7.29 MB
License:
Free to try, $19.95 to buy
Rating:
Enhanced HTML Editor Features:
Optional WYSIWYG interface
You can now simply edit your web pages like a word document or load web pages from the Net, edit them in seconds and then upload them again to the Net using the in-built FTP. Web authoring has never been easier.
Spelling Checker
Check your HTML source for spelling mistakes, multiple language dictionaries are supported and Script is skipped.
Complementary FTP Client
Your can now publish your work using the FTP facilities within EHTML itself.
Style Sheet Help Libary
Learn the professional web techniques that will take your authoring to another level. There is now support for creating Style Sheets fast and effectively.
Built in Browser
Your work can be instantly previewed with one click, without cluttering your disk with temporary files, you will never need to have several windows open simultaneously.
Auto-complete
With auto-typing, EHTML suggests HTML keywords and appropriate attributes, giving you the added benefit of HTML reference at your fingertips.
Macro Language
Quick Access to macro commands.
Quick Edit
Just press F8 while inside any HTML code and a TAG editor jumps into action.
Tag Matcher
Just Press F5 while inside a tag and the matching tag is found without searching.
Intuitive Button Toolbar
The most common HTML commands are quick to hand; you can even customize the main menu bar with your own shortcut settings.
Floating command box
Hundreds of HTML commands custom commands and access for many wizards and features are available from one floating toolbox for quick editing.
Convert Word
This program has facilities to import text documents and word processor generated files (in rtf format).
Multiple Documents
Edit multiple documents on screen at once even tile so you can view Web Pages and HTML code together.
Tool boxes
The various toolbars and boxes within EHTML can be turned off to leave you with a clear working space or moved around and clicked into place to create your own customised workspace.
Image/URL Manager
These specialist allow drag-and-drop insertion of images and links into the code window and act as a useful reference for your site structure throughout your project.
Quick Switch Bar
Switch between open documents with the click of a button.
Undo/Redo
There are unlimited, configurable, undo/redo levels.
Case Change
Change text case or HTML case for your selected text or the hole document for that professional HTML look.
Text Effects
Use the built in text effect to change the appearance of your text.
Comment Handling
Just click the button and type in your comments or select text and comment it out.
Extended Characters
Access any extended characters from the floating toolbar (You can even add your own).
Strip HTML
Quickly strip all HTML from your document so you can save them as text.
Sort Lines
Sort text lines into order with a click.
View Images
Quick views your images before you insert the HTML code into your document.
Colour Codes
There is no need to remember all those complicated colour codes you just click the colour you want or create it, then insert it into your document or edit a current colour!
HTML Reference
Find that tag name or code that you were looking for using this built-in guide.
Colour Coding
Colour your code the way you want it to make your work easier.