Cherokee Trails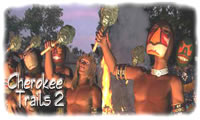 Cherokee Trails is the winner of the 2004 SIAF award for best educational game! A wise Cherokee woman transports you from a roadside flea market to a ghostly trail where you can trade with the spirits and unravel the secrets of the Cherokee Trails. You'll use herbal remedies and Shaman potions along the way. If you trade wisely, you'll overcome all the obstacles and makes the full journey from Cherokee, North Carolina to Tahlequah, Oklahoma.



Order Now $19.95 USD
Software Information
System Requirements
Genre:
Adventure

Windows 95/98/2000/ME/XP
Microsoft DirectX 7
Minimum Pentium II or equivalent
MP3-capable sound card

License:
Free to try, $19.95 to buy
Rating :

On this adventure, you must lead Ally and a party of her friends on an imaginative journey that parallels the trek of the Cherokee tribe across 19th century America. The way ahead is difficult, but it will be an important expedition, filled with opportunities to come into contact with and learn about Cherokee culture. Still, it won't be easy. Dangerous wild animals will threaten you. Natural obstacles like rugged hills and wide rivers will bar your way -- you must learn the lay of the land and use your map wisely! Along this timeworn path, you will encounter the ghosts of the past, some of whom may help or hinder you. Only by making the correct decisions at each leg of the journey can you safely lead your party to their destination.


More Screenshots - Click each image to enlarge!