Awave Studio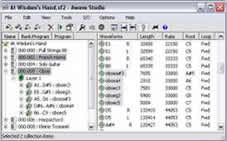 Awave Studio is a multi-purpose audio tool that reads a veritable host of audio carrying file formats from different platforms, synthesizers, trackers, mobile phones... you name it! It can be used in a variety of ways: as an audio file format converter, an audio editor, an audio and MIDI player, and, last but not least, as a wavetable synthesizer instrument editor and format converter. Think of it as the swiss army knife for anyone working in digital audio or synthesizers!




Download Trial 1.58 MB

Buy Now $129.95 USD
Software Information
System Requirements
Version:
10.00

Windows 95, 98, ME or NT, 2000, XP or 2003.
A mouse or equivalent device

File Size:
1.58 MB
License:
Free to try, $129.95 to buy
Screenshot:
View Screenshot
Rating :
This program does so many different things, just keep reading...
Do conversions from the about 250 audio related file formats that it can read (no kidding - you read that right - 250 formats!) into any of the 125 or so audio file formats that it can write! No other software even comes close to such a wide format support!
Do quality conversion between the instruments formats most common PC synthesizer sound cards. Some examples: SB AWE32, SB Live!, all Vortex II-based cards, TB Pinnacle, TB Maui, AVM Apex, Gravis UltraSound, UltraSound PnP.
Convert MIDI (and similar) song data between several formats. Or package MIDI songs together with custom instruments in a single file. E.g. you can convert MOD-tracker modules into MIDI-format accompanied by custom instruments! Or you why not convert melodies between different mobile phone ring signal formats?
Read and write instrument formats for many commercial synthesizers, hardware modules, as well as many popular software synths. Including formats from Ensoniq, Akai, Korg, Kurzweil, Roland, Yamaha, Native Instruments, Creamware and many more.
Send or receive waveforms to professional synthesizers using standard SDS transfers over MIDI or really fast SMDI transfers over SCSI.
The program also allows you read several disk format that can normally not be accessed by Windows, including formats used by AKAI S-1000 CD's, AKAI S-3000 CD's, Roland S-5xx and S-7xx series CD's and floppy disks, Kurzweil "native" format CD's, and normal Audio CD's.
A batch Conversion Wizard?makes converting large numbers of audio files extremely simple! And with optional effects processing!
The audio Processing Wizard' makes it very easy to accomplish many common editing tasks like resampling, fading, cutting and pasting, merging and combining waveforms, normalizing, time stretching, pitch scaling, smothing, recombining, searching and replacing text and much, much more! 'DirectShow audio effect filters' (a.k.a. DirectX plug-ins) are also supported opening up whole world of 3rd party effect processing modules. And it lets you these things on multiple items simultaneously as easily asn a single one! A nice example is the 'cross-fade loop' function. Using this, you no longer have to search in vain for that elusive optimal loop point. Just select a likely portion of the waveform and cross-fade it and voil?- you have a good sounding loop!
Up to 32-bit floating point wavesample data precision is fully supported. And lower precision source data is automatically up-converted to higher precision whenever you do any audio processing or editing that would otherwise introduce quantization errors ?thus the highest audio fidelity is always assured.
Several studio quality resampling algorithms available, including one that provides > 24-bit signal to noise ratio.
The nstrument Processing Wizard? help you in many ways to avoid having to manually do repetitive editing tasks on multiple instruments. The MIDI Processing Wizard?gives you tools for doing things like tranposing notes or changing the tick rate.
It is a fully featured DLS level 1, DLS level 2 and SoundFont 2.x wavetable instrument editor. You can also use it as an editor for a lot of other instrument formats! For some, it is the only PC editor. You can customize the editing user interface for your particular soundcard by using the 'parameter set' feature. Predefined sets for common synthesizer soundcards are available!
Easy to use and understand two anes?layout - a hierarchical instrument tree?to the left, and waveforms to the right.
Graphical editors available for instrument parameters! E.g., the much applauded loop editor let's you easily find the best loops. Refined to perfection based on feedback from our users!
Play MIDI files with custom instruments using the MIDI Player? Works on any computer with a basic sound card and DirectX 7 or later - you dont have to have a sound card with a fancy MIDI synth. And MIDI songs are guaranteed to sound exactly the same on all computers since it uses Microsoft DirectMusic technology and DLS synthesis (DX 8 req. for DLS level 2).
Record your MIDI songs (with or without custom instruments) to a WAV file on disk using the software synthesizer - an all-digital process! Great if you later want to convert it to e.g. MP3 format.
Audition your instruments directly using any of the several 'natively' supported synthesizers (including DirectX/DirectMusic and the Microsoft software synthesizer). Use the PC keyboard or an external MIDI keyboard to play. Or use the audio Player?(with real-time oscilloscope or frequency analyzer display) to play back audio files - it's even integrated into the Windows shell so that you can play files with a click of the right mouse button.
Record new waveforms using the Waveform Recording Wizard.
Here are just a few examples of common uses:
Do you have a strange audio file that you want to use but you can't find anything that even opens it? Or maybe you have a large number of files that you need to convert or process somehow? Try Awave Studio!
Are you a composer? Ever wanted to use free instruments from the web but found that they're in formats that your synthesizer can't handle? Or perhaps you've purchased sample library CD's for one brand of synthesizer but want to use them with another brand too? Awave Studio might be able to help you!
Ever wanted to play a MIDI song that comes with a custom "instrument bank"? Awave Studio cannot only make high quality conversions between the most of the major sound cards; it can also load both the actual MIDI song plus the instruments and play it directly for you! And that not the end of it - it can also render the song to a WAV file on disk!
Need a simple audio editor? You can do such tasks as resampling, fading in and out, normalizing amplitudes, applying effects, and much, much more. Highest quality audio processing guarantees that perfect sound quality is always maintained - at up to 32-bit/sample floating point precision.
Need an instrument editor for your sampling synthesizer or 'wavetable' sound card? Or perhaps not satisfied with other editors? Awave Studio provides full support for all of the features of both the "DLS level 2" and "SoundFont 2.x" instrument formats - and more - it is a generic and easy to use editor suitable for many formats!
The many included 'wizards' make many common editing tasks easy to perform - and they can usually work multiple sounds at once as easily as with a single sound!
A truly huge amount of audio & synthesizer file formats are supported, as well as CD-ripping, MIDI SDS and SCSI SMDI transfers, reading of non-Windows compatible AKAI, Kurzweil and Roland CD-ROM's, conversion of mobile phone ring signals, simple MIDI editing, and powerfull editing of a vast array of synthesizer instrument parameters. Do batch conversions, sound recording, create new instruments, directly 'audition' what you have created, and much, much more!
More Screenshots - Click each image to enlarge!