Audion 3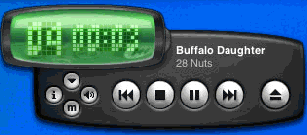 Audion 3 is a single app that bravely handles all your audio needs - It's easy to use, but with gobs of advanced features ready to be discovered!

Audion 3 can play your Audio CDs, your MP3s, and your streaming network audio, Audion 3 can encode, edit, mix, sort and manage, visualize and hypnotize. And now the version 3 can broadcast, record, crossfade, and even hang with your iPod. Best of all, Audion 3 got that Panic design - light, simple, and powerful.

Enter this number into Audion to unlock it! If copying and pasting doesn't work, try typing it in.
Serial Number: RNL07P0-030HWMV-4MAGDS3-4U17REX




Software Information
System Requirements
Version:
3.0.2

Mac OS 8.6 or higher or Mac OS X 10.0 or higher
PowerPC 604 processor
A groove, preferably on

Screenshot:
View Screenshot
License:
Freeware
Rating:
Key Features:
MP3 Player
High-quality, smooth MP3 playback
CD Player
Reorder, remix, and affect your CDs
Net Audio Player
Smoothly stream Icecast or Shoutcast
Alpha-Channel Interfaces
The first on the Mac!
Finder-like Playlists
You already know how they work!
Stream Guide
Find net streams within Audion
Dock Integration
Do everything in the dock!
CD Burning
Burn audio in one quick click!
Handy Toolbars
Easier access to cool features.
Portable Device Support
Transfer to your RIO or Nomad!
Instant Search Box
Narrow your playlist in a flash.
CD Title Entry
CD not recognized? Add it!
MP3 Encoding
Easily create MP3s from your CDs!
Real-time DJ Crossfading
Mix like the pros, live!
Visualizations
Trip out.. legally!
Multiple Control Windows
Total flexibility for your audio
Waveform MP3 Editor
Cut, copy, and paste in your MP3s!
Linked Playlists
Mirror a folder, automatically!
Advanced ID3 Tag Editor
Categorize your MP3s completely!
Popularity Rating System
Sort by your favorite songs
Album Cover Art Support
Store album art with your MP3s
Per-Song Volume/EQ Settings
Compensate for quiet songs, and more
Plug-In Architecture
Expand and customize Audion with ease
Powerful Console Window
Simple plug-in management in one place
Face Hue Shifting
A million color variations of each face!
Mixed-Mode Playlists
CD tracks and MP3s in perfect harmony
Speed Control
Make every song a Chipmunks song!
Auto Playlist Organization
Create playlist heirarchy in an instant!
WAV, AIFF, Vorbis, More!
More file formats = more listening fun
Much More!
Way too much to mention here...