Astrum InstallWizard Professional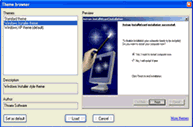 Astrum InstallWizard is a versatile, yet inexpensive utility for the creation of installation programs. It includes all the vital qualities for easy distribution of your programs and makes it simple for the final user to install the programs.
Astrum InstallWizard has a really low learning curve; you can create professional looking installations in a matter of minutes. Even though the basic use is really simple Aiw enables you to create highly customized installations with its conditionals and custom DLL support.



Download Trial 3.74 MB
Software Information
System Requirements
Version:
2.25.00

OS: Windows 98/ME/NT4/2000/XP/2003/Vista
RAM: 16 MB
CPU: Intel 486 or better / AMD K6-2 or better

File Size:
3.74 MB
License:
Free to try, $89.00 to buy
Screenshot:
View Screenshot
Rating:
Features:
Basic features
Aiw supports all the basic installation program features, including such as multiple installation items, registry modifications, INI-file modifications, shortcut creation, readme text, license agreement text, DLL registration, Shared DLLs, customizable file properties, etc.
Multi-language support
The installations can be created in any supported language* and you can give the user an option to choose a language he prefers. The Readme and License agreement texts can also be specified separately for each language.
Fully customizable outlook
Aiw enables you to define whether to show the background window, image to draw to the background, color patterns, texts, and various other settings. In addition Aiw contains a dialog editor which lets you freely modify the dialogs in the installation; you can add your own components and images, remove old components, and do whatever else you wish. Aiw even contains a Theme system which allows you to change the outlook of the entire installation with just one click. The dialog customization allows you to create installations that always look professional and up-to-date.
Single executable installations
All installations created with Aiw contain only a single executable which you can put to your website for download. No additional files are created so you don't need to use some other utility to pack installation files into a single executable. If you're distributing your installations on smaller media Aiw lets you split the installation into smaller packages.
Conditional system
The conditional system enables you to create installations that react to the properties of the destination system and to the user feedback.
AutoUpdater tool
The AutoUpdater tool enables you to add professional looking update system to your own software by just ticking the option specifying where to download the updates from. AutoUpdater can check for updates for all of your programs and you can run it in silent mode when it only displays itself if there are updates available.
System requirement checking
Aiw supports checking various system information and notifying the user if some conditions specified in the installation project are not met. You can specify the required CPU speed, amount of RAM, operating system, DirectX version, resolution, etc.
Multimedia features
Aiw supports showing a slide show during lengthy installations. To save space the files can be in jpeg format. Aiw also supports other multimedia features, such as playing background music during the installation (mp3). You can also specify that Aiw should decompress all mp3 and jpg files into wav and bmp files during installation.
Miscellaneous operations
Aiw supports multiple "miscellaneous" operations that do not fall into any single category. These features include such as shell operations (copy files, move files, delete files, rename files, create directories, remove directories), executing programs, opening documents, opening folders, showing messages, asking yes-no-questions (and taking some action according to the answer), etc.
Support for custom DLLs
The conditional system and miscellaneous operations enable you to create very versatile installations but sometimes they are not enough. In these cases you can create a DLL which contains custom behaviour. The DLLs allow you to do practically anything in your installations.
Support for installing 3rd-party components
Aiw allows you to install many third-party components, such as .NET Framework and Java. These components can be downloaded from the Internet on demand in order to minimize the installation size.
Intuitive user interface
Even though Aiw is feature packed and a versatile installation creation utility, the user interface has been kept very simple. We have gotten feedback from hundreds of users praising the intuitive user interface. Most simple installations can be created in matter of minutes.
More Screenshots - Click each image to enlarge!