AnnWebLinks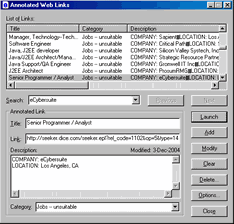 AnnWebLinks allows you to describe, search, sort, import and categorize web links. It is intended to supplement browser favorites or bookmarks. However, it can also store annotated filenames. It is useful for job hunting. It can display category statistics, show added and last-modified dates, word wrap descriptions and put titles into title case. It supports typo-insensitive comparisons, undo/redo/preview and sorting on multiple criteria. It requires Windows 95 or Windows NT 3.51 with I.E. 3.0 or higher and does not contain any adware or spyware.







Download Trial 804 KB
Software Information
System Requirements
Version:
1.5

Windows 9x/Me/NT/2000/XP
Pentium or similar processor
64MB RAM

File Size:
804 KB
License:
Free to try, $10.00 to buy
Screenshot:
View Screenshot
Rating:
AnnWebLinks Features and Benefits:
Allows bringing in favorites or bookmarks from your browser.
Displays useful information about using AnnWebLinks and what it does.
Demonstrates using AnnWebLinks through a job-hunting example.
Opens your browser or other application with a specified link or full filename, which includes its path.
By not waiting for your browser or other application to respond, AnnWebLinks does not freeze when an external program crashes.
Modify and Delete button actions can be undone or redone. When previewing is active, you can see what will happen if you allow the change.
Shows you how many annotated links are stored, selected, in each category and in no category. If you highlight one or more rows, the total number of links in these rows will be displayed.
Arranging annotated links based on a single column or multiple columns may help you locate desired links.
You can locate annotated links based on the text they contain.
Searches begin after every change to the Search field. You do not need to press a button to start a search.
You can set AnnWebLinks to match text that differs by one or more typos. The distribution of typos is limited so that matching text looks similar.
Descriptions can be modified so they display in the Description field without horizontal scrolling. Long Web addresses are not wrapped to the next line.
Titles can be put into title case. In other words, first letters of words are capitalized unless these words appear in a list and are not in certain positions. See the Title Case tab of the Option screen for details.