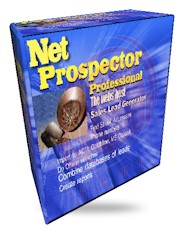 Net Prospector - make web prospecting easy

The most powerful Internet search utility available to Business, or the personal user today. Surveys tens of thousands of sites one by one and condenses the result into a database targeted to your business or personal need with 1 click of a button.
Energize your marketing efforts with Net Prospector 7.0. Your sales lead database will grow, and get the results you want. Net Prospector 7.0 makes it possible for you to get new relevant leads every week, and add them to your leads database with ease. You can have street addresses and phone numbers of companies which match your criteria! You can even export the results to Microsoft Excel. And best of all – It's EASY!






Software Information
System Requirements
Version:
7.0

Windows 9x/Me/2000/XP
1 Gig processor
128 MB RAM

License:
Free to try, $99.95 to buy
Screenshot:
View Screenshot
Rating:
Net Prospector Professional Features:
Uses 20 major search engines, 50 foreign ones selectable.
Imports results to Microsoft Outlook, ACT! (version 4, 5, and 6).
Imports results to Microsoft Excel, and Microsoft Access.
Export to text file.
Creates handy web page report showing what has been found.
Edit screen showing you where each lead came from, delete ones you don't want.
Auto restart capability.
Auto recovery and restart for some Internet Explorer errors.
Kills popup screens started by web sites visited.
Can audit the results, and delete sites.
Gets phone and fax numbers, where available.
Shows web address, web site title, phone, and fax for each contact (if available).
Searches can be continued at any time without loss of progress or leads.
Automatically skips groups of sites which don't yield prospects.
How Net Prospector 7.0 makes web prospecting easy:
Start your search from easy to use Search Wizard
Step-by-Step Wizards are designed specifically for users who know nothing about the web, search engines, parsing HTML, or any technical mumbo jumbo
Works with Microsoft Outlook, GoldMine*, ACT!**, Excel – import your new found leads into your contact manager and proceed with your sales lead process.
Get leads no one else around you will find – Get new leads every week using this powerful tool by running new searches.
Conduct hundreds of searches for new leads for your company

A complete set of web searching capabilities are included, designed specifically for the business professional. Get powerful results by finding leads and information your competition won't find. Do searches in the following ways:
By topic ( ex. "life insurance" )
By area code ( ex. "(714)"
By city ( ex. +"los angeles" +california
By country ( ex. +Germany )
Monthly (repeat searches to see what is new)

Multiple search terms (ex. +"los angeles"+calif +"realestate" )
Search terms not to find (ex. +doctors -pediatric )doesn't match pages with "pediatric"
Search for word terms (ex. word(ca) when looking for California)
Using non US engines (ex. uk.yahoo.com)
More Screenshots - Click each image to enlarge!