American Poker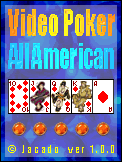 Video Poker (American Poker) is one of the best casino games. Get your cards, think and choose the cards you want to replace with others and win (or lose) according to the series of cards you compose.

Video Poker is one of the best casino games. Unlike other casino games that rely on dice, cards and spinning wheels, video poker is played on a machine. It is easy to use a phone to bring home all the fun of playing video poker. Casinos offer dozens of different video poker games to choose from. One of this games is American Poker. American Poker is played with 52 cards. The jokers and the wild cards don't participate. Press '1','2','3','4' or '5' to bet on $1,$2,$3,$4 or $5. Press the Fire key to deal. Use the navigation keys to hold/change your cards. Use the left/right navigation keys to choose a card you want to change or to hold. Use your up/down navigation keys to mark that card as a card you want to change / hold. The payout table starts with a pair of Jacks or better. One pair or two or two (pair of Jacks or better) return your bet. Three-of-a-kind triples it. A straight pays well, 8 times the bet. The Full House / Flush ratio is 8. Four of Kind ratio is 35. A Straight Flush pays well also, returning an amazing 200-to-1. And a Royal Flash ratio is 250.

The game is available for the following mobile phones: Motorola T720, Motorola T720i, Nokia 3510, Nokia 3510i, Nokia 3530, Nokia 3560, Nokia 3585, Nokia 3595, Nokia 8910i, Nokia 3100, Nokia 3108, Nokia 3200, Nokia 3300, Nokia 5100, Nokia 5140, Nokia 6100, Nokia 6108, Nokia 6200, Nokia 6220, Nokia 6230, Nokia 6610, Nokia 6650, Nokia 6800, Nokia 6810, Nokia 6820, Nokia 7200, Nokia 7210, Nokia 7250, Nokia 7250i, Nokia 3600, Nokia 3620, Nokia 3650, Nokia 3660, Nokia 6600, Nokia 6620, Nokia 7650, Nokia N-gage, Sony Ericsson T610, Sony Ericsson T616, Sony Ericsson T618,Siemens SX-1.



Buy Now $5.95 USD
Software Information
System Requirements
Genre:
1.0.0

After a succesful payment you will receive a SMS with a WAP url. If you save and visit this URL your phone will automatically download the product. Your phone therefore needs to be WAP enabled.

File Size:
44 KB
License:
$5.95 to buy
Rating: