Ambience Extractor for Adobe Premiere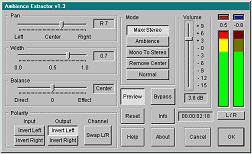 If your soundtrack sounds dull, spice it up with the Ambience Extractor. Enhances the stereo imaging of mono or stereo sound, making it feel open, alive, and spacious. Consists of five tools: Maxx Stereo, Ambience Extractor, Mono-to-Stereo Converter, Stereo-to-Mono Converter, and Center Channel Remover (very effective for removing vocals from a music track). Try it! Also available for SAW32 and SAW Plus 32.

The Ambience Extractor is not a 3D sound rendering program. It uses classic audio processing principles and offers a high level of digital precision, mono compatibility, with minimal distortion.

The Ambience Extractor is used to adjust the stereo level, balance and mix. It does have the ability to greatly increase the overall volume and widen the stereo image. For example you can reposition a center image of a sound source which has been improperly recorded, or adjust the left or right channels without affecting the center information. The Ambience Extractor's 32-bits of precision is maintained for all processing.




Software Information
System Requirements
Version:
4.2

Windows 95/98, WinNT 4.0, WinXP
Pentium 200 MMX or greater for SAW32/SAWPlus32 version 3.4
Pentium II - 266 or greater for SAWPRO version 2.0 or greater
We recommend at least 128 Mb memory for comfortable operation of

File Size:
1.16 MB
License:
Free to try, $70.00 to buy
Rating :
Key Features of Ambience Extractor for Adobe Premiere :
Simple and intuitive interface
Gain and Meter Settings shown in dB
Clip List - so you can easily locate clip/wrapped samples (NOW holds 30 clipping points
Stereo Maximizer/Imager Algorithm
Ambience Extraction Algorithm
Stereo To Mono Converter
Mono To Stereo Converter
Center Remover - Vocal Elimination
Normal Mode - So you can use the Clip-Meters and Gain Only
Mid-Side Encoding and Decoding
Polarity Reversal - Both Channels
Swap Channels
All Sliders Respond Like SAW's Sliders - Right Click to Reset
Load and Save Individual Parameters
Compatibility with all other SAW FX plug-ins
Saves and Loads all parameters to EDL file
Mute and Bypass switches