alphaEDIT - web page editor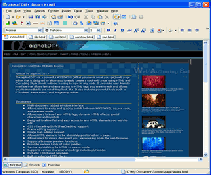 The alphaEDIT+ is a powerful WYSIWYG (What you see is what you get) web page editor that is designed to allow you to easily create a cool web page using HTML and Cascading Style Sheets without having to type in any code. It provides user friendly interface that allows fast and easy access to HTML tags you want to edit and allows you to immediately see what they look like. It also includes powerful tools such as FTP client, frame editor, and image map editor.







Download Trial 2.86 MB
Software Information
System Requirements
Version:
2.0.3

Windows 98/Me/2000/XP

Internet Explorer5.5 or later

File Size:
2.86 MB
License:
Free to try, $22.95 to buy
Rating:
Key Features of web page editor - alphaEDIT + :
Multi-document tabbed window interface.
Allows users to easily and quickly switch between WYSIWYG , source code, and preview mode.
Allows users to insert any HTML tags, dynamic HTML effects, special characters and symbols.
Designed to allow fast and easy access to any HTML elements you wish to edit.
CSS (Cascading Style Sheet) editing support.
Frame editing support.
Image map editing support.
Allows HTML elements to be absolutely positioned on a page.
Allows users to view a document you are working on in the web browser.
Supports browser preview functions.
Provides various kinds of color palettes.
Syntax highlighting for HTML in source mode.
Supports various character encodings including Unicode.
Includes CSS-based templates.
Built-in enhanced FTP client.
More web page editor Screenshots - Click each image to enlarge!