AISBackup - Managed Backup System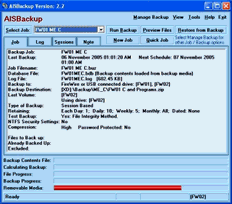 AISBackup provides a managed backup of data and the Operating System of Windows PC's and Server's to CD, DVD, Disk drives, Networked drives, FTP Servers and all other media that looks like a disk to Windows.

Backup selected files, folders, disks, or complete systems to CD, DVD, Removable drives, Network, local disks, or FTP. Disaster recovery backup and restore of Windows possible. Disc backups use an integrated or third party interface. Backup spans named multiple media when full. Optional test backup, password protection, and scheduled backups. Custom or Quick wizard-style backup job creation. AISBackup only physically backs up new and changed files since the last backup.

It backs up open files and additionally opened exclusive files from local FAT drives and all local drives when running Windows XP or Windows Server 2003. Restore options include: Complete Windows systems, individual files and folders, right click and 'Open' from backup or 'Save as' from backup. Comprehensive restore destination and duplicate file options enable disaster recovery or cloning Windows to new drives and partitions.




Software Information
System Requirements
Version:
2.2

Windows 8/7/XP/Vista
Pentium or similar processor
512 MB RAM

File Size:
2.53 MB
License:
Free to try, $37.50 to buy
Screenshot:
View Screenshot
Rating:
Why Use AISBackup? Benefit summary:
Back up as much or as little as you want: AISBackup is capable of backing up everything e.g. backing up the Windows XP drive (C:), includes the system files and security information that some other backup programs leave behind. AISBackup can maintain the security of private folders and encrypted files. Some backup solutions do not backup private folders.
Backups up to any disk based media including CD's, DVD's and flash drives: Media spanning to named media is supported. Integrated and third party CD and DVD support.
Schedule backups using the Microsoft Task Scheduler: No extra background tasks just for AISBackup, using the Quick Job option a backup of the C: drive could be scheduled to run at midnight with just 8 clicks of the mouse, and no typing! A few more clicks and you choose the time of backup.
Disk to disk cloning and synchronizing: Create a ready to go backup of Windows to another disk drive: Tutorial here. Create a dual boot system - one for play (and possible virus and ad-ware intrusion) and the other for work.
Very easily retrieves files from the backup to the original or to another destination: Drag and drop lets you know exactly where files are going to be restored. Restore a backup of Windows 'over the top' of the current running Windows, or to a new drive or partition.
AISBackup knows where a backed up file is, so if it is on CD 36 AISBackup will ask for CD 36. Right click options lets you open a file directly from the backup. Find files by name across the current or all backup jobs.
When it comes to getting information back from the backup media many backup solutions do not offer the kind of flexibility that AISBackup does.
AISBackup can backup and restore Windows NT4, 2000 and 2003 Server's: Many system administrators may find this hard to believe, but it makes AISBackup a low cost HIGH value product. There are messages on our forum from happy customers who now use AISBackup, in place of, or to supplement their expensive server based backup solution.
To be fair AISBackup does not support tape, but it does support backup to large FireWire and USB drives which can be swapped for on-site / off-site backups - the next backup session is based on the contents of the connected drive.
All the usual and unusual stuff is there: e.g. Optional Password Protection, Optional Test Backup, Backup to FTP.
Sophisticated Backup Management: Differs from antiquated traditional backup methods while keeping the benefits of tradition.