Spectral Studio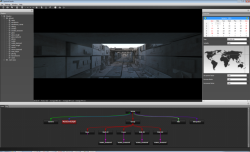 Spectral Studio is a photo realistic renderer, working on both the GPU or the CPU, un-biased and based on physically correct rules. The main difference is that the GPU is able to render faster due to the number of core (more than 1000 theses days), on the other side the CPU is able to use more memory even if most of the scenes fit well on the GPU. So it is up to you to choose the solution that fit your needs.
It is a standalone tool that provides a complete solution for those who want great image quality and full control.
Editing your materials and all your settings in real-time is a reality. Fine tune your materials and your lightning parameters to see the exact result you're looking for.
Software Information
System Requirements
Version:
1.01.01

Windows 8/7/XP/Vista
RAM 128 MB

File Size:
9.0 MB
License:
Free to try, $118.00 to buy
Screenshot:
View Screenshot
Rating :
Spectral Studio Features include:
Standalone tool
Spectral Studio is an interactive WYSIWYG editing application, allowing you to do your changes in real-time. It use the GPU power (also work in multi-GPU mode or CPU mode) to render your scene, materials, lights, textures...

With this you have a set of useful tools, by example to see the normals, to soft the normals, import files, select objects, change the views and more.
Scene graph editor
The scene graph editor allow to edit all the scene elements in real-time, the camera, assign materials, assign global lights (ie. sky ...) and mesh emitters. You can also use the shader editor, this one allow you to create your own materials and define how the material react with the light.



Assign / unassign materials

Delete materials

Material edition

Camera simulation
You can simulate camera effects through a set of parameters or simply let Spectral Studio handle the parameters for you automatically.



True optics and Reflex camera simulation

Depth of field, with focal distance and lens radius

Auto focus

Materials
Spectral Studio is based on the OSL specification (Open Shading Language), it mean that you can simulate advanced material and improve your materials library. By example, this language has been used by some Visual Effects Studios to generate accurate materials for their movies.



All material can be created through OSL (Open Shading Language)

Optimized for maximum performance on both the CPU and GPU

Full spectral based rendering
Can render either in full spectral colour either in RGB colour
Unbiased, physically-based and accurate light simulation
Converge to the final image progressively
Technology and Performance


CPU or GPU based

CPU : Multi-processor / Multi-core / Multi-thread CPU sub-core

CPU : SSE support

GPU : Multi-GPU support

Physical Lighting
Full Global Illumination support
Physically correct sun and sky light
HDRI environment
Image-Based Lighting
Mesh emitters
Interactive Tonemapping
All tonemapping features provide real-time feedback
Camera response and exposure
Physically based materials
Advanced material creation system
Global or mapped roughness
Fresnel
Custom IOR
Dielectric absorption
Opacity mapping
Dispersion
Multiple output image formats
Including High Dynamic-Range (HDR) Formats
32 bit per component EXR output. (HDR)
PNG, JPEG, TIFF, BMP, TARGO output. (LDR)
Multiples rendering modes
Ambient Occlusion
Direct Light with MIS (Multiple Importance Sampling)
Path tracing with MIS (Multiple Importance Sampling)
Metropolis light transport with MIS (Multiple Importance Sampling)
Pre-configured materials
ashikhmin
ashikhmin - velvet
emitter
textured emitter
glass
rough glass
glossy
matte
textured matte
rough metal
mirror
textured mirror
oren nayar
phong
transmissive
ward
RELATED SOFTWARE DOWNLOADS FOR SPECTRAL STUDIO