Photo DATAbase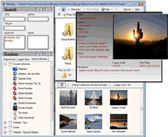 Take control of your photo collection! Explore your photo collection via logical views (by year and month, camera, exposure, keywords, etc.) or physical view (folders). Search for photos by keywords, camera data (Exif data) and IPTC/XMP data. Build collections of events, weddings, vacations, and other categories. It includes eMail and Website generation, used to communicate photos and data to clients (or family and friends). Photos exported to eMail or Websites may be watermarked. IPTC/XMP data is fully supported for reading and writing. Archived collections are supported, as are client-server office environments. Key data once, use it over and over for years to come for finding photos and including photo data in emails and websites. Tracks view counts for popularity sorting. Includes various graphical reports on your collection. Sports a surprisingly simple interface. ShareJunkies.com says "The interface of DBGallery is simplicity itself, a really intuitive easy to understand interface." In summary, it's a whole new and addictive way to search, use and enjoy a photo collection.




Software Information
System Requirements
Version:
1.0

Windows 8/7/XP/Vista
IBM PC compatible;
512 MB RAM;

File Size:
21.1 MB
License:
Free to try, $74.99 to buy
Screenshot:
View Screenshot
Rating :
Key Features of Photo DATAbase:
Key Once and use for years to come.
Once data is keyed and stored it is there for you for the years to come. This data describes the image for down the road and allows searching for groups of images, viewing this data, and generation websites which show the photos and their data.
IPTC Support
Excellent IPTC support! Picks up existing IPTC data as photos are added to DBGallery. Automatically writes data base to the file. Picks up changes made outside DBGallery. Supports editing as many photos' IPTC data as you wish.
Data Searching
Search data based on keywords, subject, author, notes, and description...or all at the same time.
Logical Views
Logical vs. Physical: A physical view of photos is how they are physically stored in folders (the old way of trying to find photos), whereas logical views are views of how photos may be organized by photo data. They may be organized by camera, for example, or year, month, ISO, number of views, etc.
Build Collections
A fast and convenient way to build collections of photos. At any time you are viewing a photo that you feel would fit into a category or collection of photos, simply drag the image to a Quick Collection.
WebGallery
Search for a set of photos, or choose a set of folders and images, and press the "Generate Website" button from the main menu. HTML is created, images copied and converted to the size you choose, thumbnails created, and data extracted.
eMailGallery
Send photos and a selection of associated data via email. The email has data and the image in the body of the email, with the data just above the image. Advanced options are available such as including the original full size image as attachment along with the smaller image in the body. eMailGallery is a great way to send photos to family and friends(include descriptions to give a complete story).
Reports
Given that the system has database core it can generate profession looking reports. The reports included in this version include Counts by Camera, Author, Subjects, Year to Year, and Time of Year, as well as a number of Stock Agency reports (for those that sell their photos).
Edit Mulitple Images
Enter data for multiple images at the same time. Example: I just took 300 photos for a "Coca-cola" marketing commission. Set "Coca-cola" and other keywords on all 300 photos at the same time.
Move Data Around
Once keyed, data and/or photos can be moved around via drag and drop to other folders. This is useful, for example, when creating collections of images where one simply does drag'n drop of images and it's data. Another practical example is for re-arranging your photos.
Photo Central: Drag'n Drop Images to Other Programs
When needing to find a photo to do something with like emailing, editing in a photo editor, or to print, pull up DBGallery, do a quick search, and drag'n drop the photo to the email client, editor, folder, etc.
Flatten Folders
A rare feature not often found. When showing a given folder, press "Show Subfolders" and all subfolder images are displayed as if it was one folder. E.g. If a given trip's images were organized by having each day in its own folder, pressing Flatten would show all the trip's images as if it was one folder.
Quick Info Cards
Roll the mouse over a thumbnail in DBGallery to see the image and data summary. One Quick Info Card view is shown here although there are four: Overview(as shown), IPTC, File & Exif, and Agency data
View Counts
Keeps tabs on an image's popularity by tracking how many times it was viewed. One of the search tabs allows filtering based on number of views.
Set Wallpaper
Right click any thumb and set it as wallpaper: centered, tiled, or stretched. Has an intelligent stretch, where if an image is within 15% of your image resolution ratio it stretches the image to fill the screen.
RELATED SOFTWARE DOWNLOADS FOR PHOTO DATABASE