OtsAV TV Broadcaster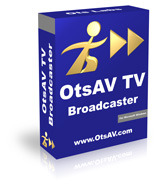 Quality professional-grade AV broadcast solution with advanced to-the-second daypart scheduling automation, MIDI hardware control and HD-720p high definition output.
OtsAV is the premier AV software, with first-class automation and full manual control, in popular use since 1999. OtsAV TV allows Webcasters, Broadcasters, Solution Providers, and Businesses to broadcast smooth quality video with automated mixing, scrolling ticker, animated titling, and scheduling.
Mix and beat mix video content at broadcast quality (50/60 motion updates, locked and stable). Output up to HD 720p. Present music videos in a "MTV-style" with smooth animated titling with customization options, customizable watermark, mixing and a scrolling ticker.
Software Information
System Requirements
Version:
1.85.076

Windows 2000 / XP / Vista / Windows 7 (32 and 64-bit)
512 MB RAM

File Size:
29.3 MB
License:
Free to try, $1499.95 to buy
Screenshot:
View Screenshot
Rating :
Key Features of OtsAV TV Broadcaster:
Full customization of video output watermark, logos in titling, etc.
Partial (co-branding) customization of video output watermark, logos in titling, etc.
High Definition 720p Video Output mode
Optimized / Standard / Enhanced Definition Video Output modes
Integrated Video Sub-system with Ots Labs TrueSmooth™ Technology. Includes animated titling, smooth ticker, full widescreen support, and many advanced features.
Video Processing Engine with Ots Labs IntelliARC™ Technology. Includes intelligent aspect ratio handling and embellishments features.
Integrated Basic Scheduling
Integrated Advanced Scheduling with to-the-second daypart target capability, allowing tight control and perfect timing (achieve to-the-second dayparting without premature fades or dead air).
MIDI Hardware Control
Live Audio Input
Automated Beat Mixing* (Ots Labs BeatMorph™ Technology)
Intelligent Automated Fade-mixing (Ots Labs IntelliFade™ Technology )
Integrated Karaoke CD+G Sub-system
Slideshow mode
Logging played items and times to text file or CSV file with additional fields for music licensing authorities
Export Media Library item information to CSV file with additional fields
Deck Tempo / Time-Scale Adjustments (Ots Labs ClearScale™ Technology)
Time-Scaling Ranges +/- 4/8/16/32/64/100%
Audio Processing (Ots Labs PureFloat™ Technology)
Low-Latency Audio Output (Ots Labs StablePipe™ Technology)
Integrated Dynamics Processor
Integrated Graphics EQ
Integrated Mixer
Cue Channel Output
Multi Sound Card Support
ASIO driver support
Match A-B BPM Control
Media Library with OMQL support
Powerful Playlist Generator including Station ID support
Save As Wave
Deck Pitch Adjustments
Waveform display
ShoutCast Output and other compatible 3rd party plugin (Audio Webcast)
Winamp Visualisation Plugin Support
Play Direct From Audio CDs
Direction Control & Reverse Play
Realistic Vinyl Scratching
Scratch Sampler
Remote Access Control
Ots Media™ Professional File Format support (Ots Labs Ots Media™ Technology)
MP3/WAV/OTS file direct support MP3 / MP2 / MPEG1-video / MPEG2-video / unencrypted VOB file / CD+G support in professional Ots Media™ file format
What features are added to OtsAV TV Broadcaster when using a MIDI controller?
Video block per deck and Video Master deck select
Visual notification of deck states (e.g. Playing, Cued, Time remaining/elapsed display)
Navigate Playlist, Work, and History list areas.
Load video to Deck control
Fine adjustments on Pitch/Tempo/Direction sliders
Instant response on all controls
All buttons, faders, and jog wheels can be assigned to different functions within OtsAV
RELATED SOFTWARE DOWNLOADS FOR OtsAV TV Broadcaster