StationPlaylist Studio Pro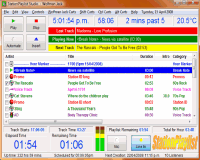 Studio is our on-air broadcast playback software for the studio, providing useful features for assisting the DJ during live shows, and for unattended automation with our StationPlaylist Creator track scheduler.
Any DJ can use this software. An uncluttered screen and large control buttons makes this one of the easiest to use broadcasting applications available.
Studio takes the work out of managing multiple players. Studio manages and controls multiple players internally for such purposes as automatic voice track / song intro overlapping. Plus an advanced intelligent crossfader means that all tracks mix together perfectly with no human intervention.
Streaming your station on the Internet in multiple codecs is simple using Studio.
Studio Pro supports all the features listed below such as logging of spots and commercials, fail safe redundancy, and voice track overlapping. Studio Pro works best with Creator Pro for a complete professional broadcasting solution.




Software Information
System Requirements
Version:
4.21

Windows Vista, XP, 2003, 2000
P500 processor (P900 for streaming)
32MB RAM
800x600 screen resolution or higher
1 full duplex soundcard (optional if streaming only)

File Size:
4.41 MB
License:
Free to try, $229.00 to buy
Screenshot:
View Screenshot
Rating :
Key Features of StationPlaylist Studio Pro:
Live Assist mode
Play tracks individually, or tick the checkbox beside the tracks to play consecutively before stopping for a live announcement.
Microphone control
The Mic button can either turn on a soundcard mixer device of your choice, or record from a sound input device. The current playing song is optionally faded automatically for live voice overs.
Manual Line Input control
The Line-in button can sample audio from any sound input device. This may be used for external audio such as tape decks, telephone integration or satellite feeds.
Single key keyboard controls
Play, Stop, Automation toggle, Mic toggle, and other controls have configurable single key shortcuts for simple operation.
Insert, delete & move tracks in the live playlist
Use the insert dialog, or drag & drop, to easily insert additional tracks into the Playlist Viewer. Instant search results on criteria such as artist, title, album, duration range, year range, genre, mood, and many more.
Track Preview
With a second soundcard installed, any track may be easily previewed by the DJ.
48 slot cart machine for instant jingles
Up to 48 audio files may be assigned to keyboard shortcuts/menu items for instant play of jingles or sound effects etc.
96 slot cart machine
Studio Pro supports an additional 48 cart slots
Play Carts via push buttons
A separate form is available containing push buttons for all the cart slots. Suitable for high resolution or dual monitors, including touch screens.
Automation mode
A click the Automate button and Studio will automatically load playlists and play continuously. If playlists should run out, or an hour is short for whatever reason, Studio can load random Top Up tracks from a specific folder to ensure play does not stop.
Run unattended indefinitely
Studio can automatically load StationPlaylist Creator to generate playlists, and run continuously without human intervention. Studio can be set to auto-start in automation mode after a power failure, and start playing at the track scheduled to be playing at the current time.
Advanced automatic crossfading using one soundcard
Studio utilizes file scanning techniques to automatically establish the best cue, segue, and overlap positions based on the volume inside each track. Tracks mix perfectly from one to the next as if a DJ is doing it. Manual crossfade settings for individual tracks is also available.
Voice track / song ramp overlapping
Once the vocal start position of each song has been established, Studio Pro can automatically overlap pre-recorded voice tracks, song introductions and other generic dry tracks with the instrumental beginning of the following song (song ramp). This makes your station sound 100% live when unattended. A powerful yet easy to use feature. **
Sound processing - Compressor / Limiter
Studio includes a dual and multi-band compressor/limiter to alter the dynamics of the audio and provide a more constant volume. Also comes with a 250 band graphic equalizer. 3rd party Winamp DSP plugins are also supported.
Internet streaming
Stream on the Internet in multiple audio codecs simultaneously, including MP3, AAC+ (HE-AAC), Windows Media, and Ogg Vorbis. Supports all Shoutcast compatible servers (eg. Peercast, Live365) plus Icecast, Streamer p2p, and Windows Media servers.
Stream Server Metadata Integration
Send artist, title and other information directly to your streaming server to update the metadata. Your stream listeners will see what's playing in their media player, plus any other information you wish to include.
Stream Listener Statistics
Displays and logs the current number of listeners for all streams, plus total listener hours for the day and month. Supports Shoutcast, Icecast2, and Windows Media servers.
Read existing file tags
Studio can read existing file tags to establish artist, title and other information, or it can use the filename where no tags are present. Supported tags are ID3v2 & v1, Ogg Vorbis, MP4/M4A, WMA, APE, and RIFF LIST/INFO chunk and the broadcast industry Cart Chunk for WAV files.
Custom file tags
Rather than using a cumbersome database which can easily become corrupted or lost, Studio utilizes a custom file tagging system to store information in each audio file, such as Artist, Title, Album, Year, Genre, Composer, Record Label, CD catalog number, CD cover URL, CD purchase URL, last 18 times played, and much more.
Include "Now Playing" details on your website
Generate a completely customizable HTML web page or text file containing the current song details, and up to 9 of the previous songs played. The file may be automatically uploaded to a remote web server via FTP. All of the file tag information above may be output and much more.
Earn money from CD sales
The "Now Playing" facility above supports automatic Amazon CD cover images and purchase links advertised on your website for the song currently playing, and previous songs played.
Additional metadata output
Send song playing metadata via a serial port, text file, or HTTP request for such purposes as updating RDS encoders, StationPlaylist Streamer, or server side scripting, etc.
Failsafe redundancy using Studio Monitor
Studio Monitor is a separate utility program which connects to Studio via TCP/IP. It's main function is to monitor the status of Studio and perform tasks based on any problems that may arise.
External I/O device integration
Two-way serial RS-232 communication is supported, plus 2-way contact closures via the parallel (LPT) port.
Break Note support
Break Notes are non-audio items scheduled in the playlist, used to either control various functions within Studio, or to display a message to the DJ, such as an advertisement to read live. **
Automated satellite feeds
Audio input from 1 of 4 different sound devices may be "played" for a specific time period before moving on to the next track in the playlist. Useful for 1 or more satellite feeds. Includes silence detection for variable length feeds.
Station networking
Studio may be used at a network studio and at remote stations to play local advertisements between network programming. **
Timed Events
Spots, Break Notes, and Hour Markers may be played/executed at a precise time, or optionally after the current song has finished. **
Automated time-of-day announcement support
Pre-recorded time announcements may be played whenever a time announcement code appears in the playlist. **
Automated temperature announcement support
Pre-recorded temperature announcements may be played.** The temperature is read from either a weather station via the Internet, or a USB digital thermometer plugged into the computer.
Detailed logging of songs played
All songs played may be output to a spreadsheet compatible log file in a user-definable format. This may be used for song royalty or SoundExchange reporting. Optional details output include Artist, Title, Album, Composer, Record Label, ISRC, stream listener count, and much more.
Detailed logging of spots played
All spots (advertisements etc) played may be output to a separate log file and filtered in a spreadsheet for advertisement billing purposes.
Record audio to file
All audio produced by Studio, including microphone and line input to the soundcard, may be recorded to file for archival purposes, repeat broadcasts, or writing to CD, for example.
Password protection
A password may be applied to the settings/options to protect against accidental changes or curious DJ's.
Plays all major audio file formats
Supports MP2, MP3, MP4(AAC), M4A, OGG, WAV (PCM/MP2/MP3), WMA, FLAC, APE, and AIFF audio file formats, plus CD tracks directly from a CD.
Plays several video formats
Supports playing video files to a window or fullscreen with support for multiple monitors. Plays MPEG/MPG (MPEG-2), AVI, WMV, ASF files.
Play Internet streams
Play audio internet streams or files for news feeds or relaying.
12 months free updates and email support
All new releases major and minor, containing new features and any bug fixes, will be provided free for 12 months from the date of purchase. After this period, an additional 12 months may be optionally purchased for just $28 / €19 every year.
High Accessibility
StationPlaylist strives to make our software as accessible as possible. Visually impaired users will find all functions accessible via the keyboard. Also, standard Windows controls are used for compatibility with screen readers.
** These marked features above may require StationPlaylist Creator music scheduler.
RELATED SOFTWARE DOWNLOADS FOR STATIONPLAYLIST STUDIO PRO