Note Carrier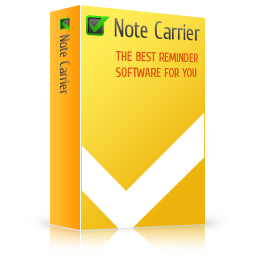 Note Carrier is a modern reminder software for taking notes on your desktop. Utility that can increase your efficiency!
It is a modern solution to contemporary problems of a large amount of information that you want to keep in mind and recall it at the right time. Together with the Note Carrier you no longer have to think about everyday tasks that must to do so. In notebooks sometime it is a difficult to find something, notebook may be lost, or notes on a piece of paper remaining at work, at home or in the car - all this is inconvenient and gradually disappearing. Using Note Carriers software you can organize information or just write down all you need using quick add reminders by hot keys. That way important information will never be lost. Software for creating notes and reminders Note Carrier has a simple but functional interface with which you can find out in less than a minute, and to which you can adjust and evaluate its merits after add a few reminders. Here you can watch short concise and informative video review of the work and merits of Note Carriers software.
Try it now and stay calm that together with the Note Carrier, you will not forget important things!





Software Information
System Requirements
Version:
1.20

Windows 2000, XP, Vista, Windows 7
Hard disk space: about 300 MB
Microsoft .NET Framework 4

File Size:
2.18 MB
License:
Free to try, $31.75 USD to buy
Screenshot:
View Screenshot
Rating :
Note Carrier Features:
Looking through the previous reminders:
In the NoteCarrier there is used a modern mobile database which always remembers (stores) all the lists of your events. Even if you need to remember what you did last Tuesday, September 26th, or 7 months ago – you may do that only with NoteCarrier.
Interactive calendar::
Having looked into the Note Carrier calendar of events, you can immediately understand what day you have planned your proceedings for and whether there are reminders, without opening the agenda list for that day.
Search in passing:
In order to find a note that you made but you do not remember what day you set for that event, it is enough for you to use the built-in search which allows you immediate (with entering every following letter) sorting out all the events and you even do not have to press the "search" button.
Changing a reminder that was already created:
Having created a reminder, you will be always able to edit it. All you will need is to use the search for finding it and double-click it. You will be able to change any information – time of reminding, tune of notification, text of the note. With the NoteCarrier everything becomes possible.
If the computer was turned off:
When you turn your computer off for a long period, our program continues to work! If there should have been several notifications for the time that has passed, NoteCarrier will anyway remind them to you on turning on the computer. It will be not an intrusive popping up of numerous reminders, but a list of reminders that you may close or put off until later.
Hot keys:
To create a reminder quickly, it is enough to use the combination of hot keys CTRL+ALT+N. If you remembered anything and you need to quickly put it down, whatever application you are in, just press CTRL+ALT+N and write what you would not like to forget.
Convenient filter of forthcoming reminders:
As there sometimes arises a necessity to quickly look through the list of your reminders or events for the forthcoming week or month, or maybe only day – there is a filter of forthcoming reminders, which may sort out all your notes with a single click of a mouse.
Repeating reminders:
When creating a reminder you may set a frequency of reminder's repeating – for instance brushing your teeth every day, or going to your Grandma every Tuesday and Saturday. There is a chance to create reminders repeating on certain days of the week, month, every year, or once on a day that was set.
The types of events / reminders:
In order to quickly sort all the reminders related to birthdays, entertainments or work, you may set a type for every new notification choosing one from the pull-down menu, but if you are in a hurry to make a note, it is not necessary to set the type of reminder.
AM/PM, 24h or the formats of time and date display:
Note Carrier has already got a lot of users and our team does its best to create such software that would be pleasant to use for everybody, that is why you may choose the format of time and date display in American or European style in the settings of the program.
Deleting cyclic reminders:
It often happens that we wish to put off something intentionally, but not because of forgetting, or we do not wish to do some daily task today. For such cases, there is an option in NoteCarrier to delete only the forthcoming reminder without deleting it completely, or to fully erase it if necessary.
OK, but a little bit later…:
Any reminder or list of reminders may be put off for a period from one minute to two hours. Even if you have just turned on the computer and a list of events is waiting for you there, you may put off every single reminder to its own time and cope with all the tasks without forgetting any of them.
The Beatles, M. Jackson, Eagles, Madonna:
During the program's development we have included pleasant reminder tunes into its setup package, but you can assign you favorite tune or song for any reminder. NoteCarrier supports some of the most widespread audio formats - .mp3 and .wav – so you will not have any difficulties in finding the compatible format – open the media library and choose.
Turns on by itself, reminds by itself:
In order to be sure that you will not forget to open your diary and check the agenda – an auto-run of the program is set with the windows startup. Set it once and forget about it forever, NoteCarrier will be working by itself.
This is not the whole story:
If you work with a full-screen application on your computer and you have many opened windows – NoteCarrier can display the reminders above the other windows! In order to activate this option just choose "above the other windows" checkbox in the settings.
Good things should be, but in a moderate amount:
During the work with NoteCarrier you will be pleased with the effects of opening and closing the window of program, and also appearance and hiding of pop-up window with the reminder's notification.
RELATED SOFTWARE DOWNLOADS FOR Note Carrier