VueMinder Calendar Pro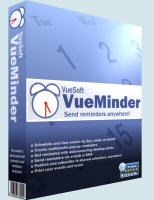 VueMinder Calendar Pro is the world's most powerful calendar and reminder program!Take control of your schedule and get reminded wherever and however you want.
VueMinder Calendar Pro shares calendars and reminders in your home, office, or online. It also print calendars using a wide variety of layouts and styles. Do all these things and much more with VueMinder Calendar Pro. It's easy to learn and free to try!
VueMinder Calendar Pro is packed with features, but it's also extremely easy to learn, with each capability carefully designed based on user feedback and usage studies. Here are just a few of the many things you easily can do with VueMinder Calendar: Create informative reminders containing event descriptions, pictures, video, music, or web pages; Automatically send reminders to friends, family, or coworkers via email or SMS text messages; Share calendars and reminders online or over your local network; Collaborate with multiple people sharing the same calendar and so on.
VueMinder Calendar is an extremely flexible, powerful, and easy-to-use tool that can help you more effectively manage your time, and thus become more successful in both your personal and professional life.




Software Information
System Requirements
Version:
5.5.1

Windows 8/7/XP/Vista
Microsoft .NET 2.0
CPU 500 MHz or faster
512 MB RAM

License:
Free to try, $49.95 to buy
File Size:
8.94 MB
Screenshot:
View Screenshot
Rating :
Key Features of VueMinder Calendar Pro:
Flexible reminder options

Popup reminders can contain pictures, video, music, or embedded web pages.
Reminders can also be displayed via desktop alerts, which can be set to automatically snooze and to play a sound when displayed.
Reminders can be sent via email and SMS text messages, both to yourself as well as any other people you'd like to receive your reminder.
Calendars can be individually configured with default reminder options for new events.
Recently dismissed, snoozed, or sent reminders can be easily accessed and redisplayed.

Microsoft Outlook and Excel Integration

Calendars can be imported and exported to Microsoft Outlook and Excel.
Automatic Outlook synchronization allows you to view or modify the same calendar in both VueMinder Calendar and Outlook.

Integrated Desktop Calendar

An interactive calendar can be optionally integrated into the Windows desktop, allowing quick and easy reference to your schedule.
Many of the features available on the main window, such as event creation and modification, can be performed from within the Desktop Calendar.
The Desktop Calendar properties, such as transparency, size, and location, can be easily modified directly from the desktop.

Fully customizable calendar category and event appearances

Assign a font name, style, and color, as well as a two-tone gradient background to each calendar category or to individual events.
There are infinite possibilities when customizing calendar and event appearances.

Publish your calendars

Share your calendars by publishing to any location, including secure servers using SSL (Secure Socket Layer) 3.0 or TLS (Transport Layer Security) 1.0 protocols, when available.
Bi-directional calendar sharing means you can modify a subscribed calendar and publish its changes. This is perfect for groups of people that need to share the same calendar.

Subscribe to others' calendars

Subscribe to a shared calendar, including calendars that are on servers requiring authentication.
You can also easily subscribe to public calendars using our built-in public calendar browser.

Send calendars or events via email

Send calendars or events to others via email, using the iCalendar file format.
You can even select multiple events to send at the same time, rather than having to send them individually.

Repeating tasks

Perfect for those easy-to-forget tasks that need to be performed periodically, such as replacing the furnace filter or checking the smoke detector batteries.
When you complete a repeating task, simply click its checkbox and the next due date of the task will be automatically calculated. There's no need to manually redefine the task for the next time it's due.
You can also mark events as being completed. Completed events can either be hidden or faded in the day, week, or month views.

Event and task list

You can view a list of events and/or tasks for the currently displayed dates or any other date range.
This list can be exported to a Microsoft Excel formatted file.

Printing and print previews

Many different print style layouts are provided. Print by day, week, month, or year.
You can also print a detailed report, an email-style memo, or the contents of the current event and task list.
A real-time print preview is provided.

Date navigation

A multiple-month navigation pane is provided. Simply resize the navigation pane, and additional months will be displayed.
The previous or next day, week, or month can be quickly navigated by using left and right arrow buttons.

Appearance themes

The entire appearance of VueMinder Calendar can be modified by selecting different appearance themes.
There are many themes packaged with VueMinder Calendar.

Flexible recurrence options

A complete set of event recurrence rules is provided, covering any possible recurrence pattern, no matter how complex.

Many other features...

A configuration wizard is provided to help get you started.
You can backup and restore VueMinder Calendar 's data. An automatic backup feature is also provided.
A status bar shows details of the currently selected calendar, including the number of events and the time it was last published and/or subscribed.
RELATED SOFTWARE DOWNLOADS FOR VUEMINDER CALENDAR PRO