InBloom Pro for Mac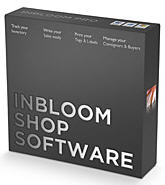 InBloom Pro for Mac is an InBloom Shop Software which is also a complete consignment, resale, retail, and gallery solution.
Keep track of inventory, sales, customers, and consignors in addition to printing labels, tags, consignor checks, consignment agreements, reports, and more. The Pro version of InBloom DOES REQUIRE FileMaker Pro 9 and allows customization of the default layout of tags, labels, checks, receipts, and reports.
Completely cross platform, it lets independent, small, and medium-sized businesses have an all-in-one inventory management, customer management, point-of-sale, and check-printing solution that is intuitive, fully networkable and customizable. Built upon the FileMaker Pro database framework, InBloom brings all of FileMaker's reknowned power and ease-of-use together in one easy-to-use solution.




Software Information
System Requirements
Version:
2.0

Mac OS X 10.3.9 or greater
FileMaker Pro 9.0 or greater
256 MB of RAM

File Size:
3.43 MB
License:
Free to try, $375.00 to buy
Screenshot:
View Screenshot
Rating :
Basic Features of InBloom Pro for Mac:
An elegant interface that's easy to learn and use
Built-in spell checker to make sure every piece of information is letter perfect
All changes made to any record are automatically saved. There's no need to repetitively hit a 'Save' button
Use the Dashboard to get the status of your daily sales and more in one mouse-click
Powerful searching: blaze through thousands of records amazingly quickly in any part of InBloom (e.g. Inventory, Buyers, Check Stubs, etc.)
Customize endlessly and to your heart's content. Make your copy of InBloom truly yours. InBloom is built in FileMaker, the world's leading desktop database software.
Share data between Mac & Windows, simultaneously and seamlessly.
Share printers between Mac and/or Windows, simultaneously and seamlessly. Share, use, and print to any printer on your network. Save money as you don't have to buy a printers for each computer in your store!
Multi-window interface: You can easily look at several contacts, inventory lists, and more, all at once. You don't have to close one screen to go to another.
Record logging: Any changes to inventory are logged so you can see which user made changes to a record and when
Key Features of InBloom Pro for Mac:
Inventory Management & Item Entry


Unlimited markdowns and markdown periods: Use our Price Code feature to create any possible series of price reductions ("markdowns") over any length of time
Keep track of all your pertinent item info such as designer, description, price, date accepted, and more
A Price Quote feature lets you do on-the-spot research on how to better price an item in your inventory
Sort on any column in the current view or do custom sorting
Organize and keep pictures, multimedia, and any kind of file associated with items in your inventory
Keep track of returned items, donated items
Keep track of any deductions or fees made on an item-by-item basis (e.g. drycleaning fees, returned item fees)
Keep track of any specific and hard-to-classify information using custom fields
Automatically color-code the items for an easy, at-a-glance understanding of what is happening with an account or multiple accounts
Powerful searching lets you find items in with simply or using advanced search terms
Filter sold, returned, in stock, or donated items out of the current view
Keep track of any additional, unaccounted for information by maintaining notes for individual items or using custom fields to keep track of certain kinds of data

Buyers & Consignors


Keep track of all the info of both your buyers and consignors. Contacts can be both buyers and sellers in the same record. This lets you automatically view a real-time sales history of every invoice and every item purchased by a buyer, along with a history and accounting of all check payments to a consignor
A specialized mailing list manager helps you sort and print mailing labels for sales and/or announcements.
A built-in Alert Manager lets you display reminders to InBloom users when they search for a particular contact
Easily print address labels on any kind of label size, shape, and format

Point Of Sale


Writing sales, layaways, and store credits are all as simple as possible
Multi-register/computer capable. Post sales, returns, credits, and accept new items from different computers all at the same time
Keep track of salespeople, multiple tax levels, buyer addresses/shipment addresses, shipping charges, payment type, and more
Design your receipt to look exactly as you see fit, and as beautiful as possible
Include promotional footers as part of sales receipts or separate promo receipts for inexpensive marketing ideas
Use only the numeric-keypad part of your keyboard for entering sales.

Customization


InBloom Pro users can leverage the full power of FileMaker Pro and customize the look and layout of their printouts. A powerful custom print engine is set up to automate FileMaker's print features
Pro users can also change functionality in the central database, if they choose
Lite & Pro users can have InBloom generate emails to confirm shipments. The email can be customized to whatever they like.

Printing & Reporting


Ensure your reports, receipts, checks, and forms look and work the way you want them to
Build upon FileMaker's renowned printing functionality and print to any kind of printer: laser, inkjet, dot-matrix, thermal tag/label, etc. If your computer can connect and print to the printer, then InBloom can use it
Print checks on demand or in batch
Format the layout and content of your check prints
Use a thermal label printer to stick labels onto common colored price-tags. Don't waste tags simply because you are printing an odd number of tags
Usage of logos and images in any print including reports, receipts, and checks
Print notes and promotions on your sales receipts. Inform every customer or specific customers of anything from sales promotions to information about your business
Output reports as printouts and/or as PDF
Send reports via email, HTML, or as Excel spreadsheets
Template based reporting lets you make your own custom reports

Networking & Sharing


Simple networking and built-in security lets you seamlessly and safely share data with Mac and Windows users simultaneously, across your store network or across the web
Customers running InBloom as a FileMaker template can publish data over the web direct from their computer. FileMaker comes with powerful web publishing tools to provide secure access to specified users via their browser. The database displays in a format familiar to what is displayed in the Windows or Mac OS versions of FileMaker Pro, and it uses your existing Internet connection to publish the database to the Web so no additional hardware or software, other than a supported web browser, is required.
Each and every feature is 100% compatible with both Intel-based Macs, PowerPC-based Macs, & Windows versions of the software. Run your business is mixed Mac & Windows environments.
You can use any administrative functionality from any computer in your store or from across the web (e.g. home or your internet enabled little beach cottage)

Import, Export, & Backup


Backup all of your InBloom data in one easy-to-manage file
Restore all of your InBloom data with ease
Auto-backup your data upon opening or closing InBloom, in specified intervals*, or at specified times*
Export records as PDF (support for the Adobe PDF format is now baked right in) or Excel on top of numerous other file formats: Adobe PDF; Microsoft Excel; BASIC; Comma or Tab-separated Text; DBASE III and IV; DIF; HTML; Lotus 1-2-3; Merge Files; SYLK; XML.
RELATED SOFTWARE DOWNLOADS FOR INBLOOM PRO FOR MAC