Fund Manager Advisor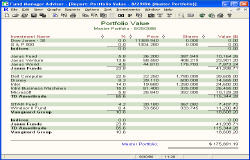 Fund Manager Advisor is powerful portfolio management software which is for the individual investor, professional trader, or investment advisor.
Fund Manager Advisor tracks stocks, mutual funds, and other investments. Analyze and compare investments and portfolios with a wide variety of easy to use graphs and reports. It makes keeping track of investments easy by updating prices and retrieving transactions from the internet with the push of a button. Fund Manager makes tax time a breeze with capital gain reports. Capital gain information can be exported to popular tax preparation software. Capital gain reports are available for first-in-first-out, average, and specific lot accounting methods. Wash sales and short sales are also supported.




Software Information
System Requirements
Version:
9.6

Windows 98/NT/2000/XP/Vista
128 MB of RAM

File Size:
2.75 MB
License:
Free to try, $895.00 to buy
Screenshot:
View Screenshot
Rating :
Key Features of Fund Manager Advisor:
Investment Records Management
Record your transaction history for an unlimited number of investments and portfolios. Track stocks, mutual funds, options, bonds, and cash accounts. Keep track of your purchases, redemptions, distributions.
Hierarchical Portfolios
Track an unlimited number of portfolios. Portfolios can contain an unlimited number of hierarchical sub-portfolios. Display graphs/reports on any portfolio or sub-portfolio. Sub-portfolios are useful for organizing your investments into specific accounts.
Automated Price Updates
Retrieve daily and historical prices from the internet.
Retrieve Transactions Directly from your Broker or Fund Company.
Retrieving transactions makes keeping your records updated easy. Learn more here.
Graphing
Extensive graph options allow you to view your investments and portfolios in a variety of ways. Compare performance and gain insight into your positions. Choose from 29 customizable graph types displayed in the Graphs window. See screen shots of graphs.
Reports
Choose from any of the 13 available report types, including a "Custom" report that offers over 150 available fields to choose from. Reports are very flexible, so you can get the exact format you need. See Report windows and sample screen shots of reports.
Capital Gains Reporting
Support for First In First Out (FIFO), Average, or Specific Lot accounting methods. Capital Gain reports provide all the information required for tax reporting. Export capital gains to TurboTax or other popular tax preparation software. Wash sales are supported in the Professional and Advisor versions.
Price Alerts
Choose from a variety of price alert types, such as fixed price, trailing stop loss, or moving average alerts. When an alert is triggered you can be notified with a popup window, sound, have an e-mail sent to you, or you can be paged.
Yield Calculations
True GIPS (AIMR) compliant return calculations. Multiple yield types are available to report how well your money performed, or how well the underlying investment performed. See Yield Calculations in the documentation.
Markers and Trendlines
Markers can be shown on graphs for the following: Buy, Sell, Distribution, Notes, Splits, Price Alerts, Un-Specified Lots, Trendlines. Trendlines are a special marker type that you can draw on any of your graphs.
Multiple Currency Support
Track investments in up to 25 different currencies. See the tutorial on tracking investments in different currencies.
Import Transaction History
Supports transaction data from a wide variety of sources, including a "Generic" import, where you can specify the format of your incoming data. Makes it easy to get started if you're coming from another software package, such as Quicken or Microsoft Money.
Asset Type and Investment Goal Allocation
Each investment can be assigned in percentages to 25 asset types, and also 25 investment goals. Graphs and reports are available for analyzing your allocation among, and performance in, these categories.
Technical Analysis
The technical analysis graph allows you to display a wide variety of indicators.
Retrieve Historical Dividend and Split Data
Retrieve past dividends and splits on investments. Useful for when the data is not available from your broker or fund company, or when you're investigating investments you may not own.
Trailing Stop Loss Alerts
An alert type useful for limiting your down-side exposure.
Moving Average Alerts
An alert type to notify you when the price crosses a moving average. You choose the time period for the moving average.
Wash Sale Support
Wash sales supported in capital gain reports.
Real-Time Quotes
Supports the real-time interface of both Yahoo and Google quote servers.
Advanced Statistics
Alpha, Beta, Correlation, R-Squared, and Sharpe Ratio calculations for investments, portfolios, asset types, investment types, or investment goals.
Client Management Support
Keep contact information for each client. Have an associated portfolio for each client, with an easy way to switch views between clients. See the Client List Dialog.
E-mail Graphs/Reports to Clients
Use the Send by Email command to easily create/send any graphs and/or reports to your clients by email.
Import from A Wide Variety of Broker Dealers
Built-in support for importing pricing, securities, transactions, and positions from Ameritrade (legacy), BrokersXpress, DAZL, DST FAN Mail, Fidelity, Fiserv ISS, FOLIOfn, SchwabLink, Scottrade, Southwest Securities, or TD Ameritrade.
Graph/Report Publishing Support
Graphs and Reports can be copied to the clipboard, and pasted into other applications for preparing client reports. Images can be resized to any desired size, while maintaining their quality.
Report Disclaimers
Customizable disclaimer is displayed at the bottom of each report. You specify the text and font.
Unlimited Investments And Portfolios
You can track an unlimited number of investments and portfolios. In the Personal version, you can have up to 500 investments in any one portfolio. In the Professional version, you can have up to 2,000 investments in a single portfolio. In the Advisor version, you can have up to 50,000 investments in any one portfolio.
RELATED SOFTWARE DOWNLOADS FOR FUND MANAGER ADVISOR