Aston Secure Desktop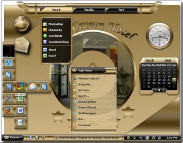 Aston Secure Desktop is a security build of Aston 1.x branch. It possesses all the features of regular Aston shell, but constrains the ability to alter the admin-defined settings. This restricted version is highly recommended to Internet-cafes and kiosks administrators, colleges and companies authorities, and parents willing to find their Desktop settings unaltered after their kids incursions. This is also a perfect way out in other situations when users' ability to customize their working area needs to be limited.
With Aston Shell Secure Desktop you get a restricted but still beautiful and powerful desktop enhancement. It no way limits the comfort and attractiveness of regular Aston.





Software Information
System Requirements
Version:
1.9.6

Windows 2000/XP/Vista
128 MB of RAM

File Size:
4.69 MB
License:
Free to try, $34.95 to buy
Screenshot:
View Screenshot
Rating :
Two Modes of Aston Secure Desktop:
User mode
In order to switch to the Admin mode one needs to press the pre-defined hotkey combination (Ctrl+Win+Del) and enter the password. From within the Admin mode one can set the programs and applications to be available from the Main Menu, both Toolbars, Panels (regular and vertical) and Desktop. When in the Admin mode, one can also tweak the system date and time and the screen settings, the same concerns Themes and skins. In a word, the Admin mode of Aston Secure Desktop behaves like regular Aston shell.
In case the Administrator needs to apply the same settings to several computers, he may simply configure the shell for one computer, export settings and apply those settings on any (all) other machine.
Admin mode
Unless one knows the admin password, he has to operate the User mode. User mode gives no opportunity to change the pre-defined settings - the user can only start the programs and apps permitted by the Administrator. Additionally you can set password for any desktop element (icon) which gives you even greater control over the shell. The appearance of the shell (Themes and skins) cannot be re-designed either. But the usability of the shell is still very high.
What's new in Aston Secure Desktop 1.9.6:
Three new themes added to the distributive: for a game club, Internet cafe and a hotel.
New option: export and import of the full ASD configuration
New option, which lets one disable the task manager
New option: password protection of the elements start (each element can be protected with its own unique password now)
New option: show an element to admin only
New option: abillty to add wallpapers folder
New option: ability to disable (enable) the system tray
New option: ability to specify file extensions that can be run in the Apps white list
Improved Windows Vista support
Fixed bug: white list in Windows Vista works correctly now
Fixed bug in plug-ins and their setup
Fixed bug in the installer functioning under Windows Vista
Fixed bug with shells switching
Fixed bug with the folders displaying in the Main Menu
Fixed bug with the item paths
Fixed bug with the new desktop elements coordinates
Fixed bugs in DiskEx, Recycle bin, Panel and Nettrafic, AstAmp plug-ins
Fixed bug: error with the context menu items under Windows Vista
Fixed bug: error with the icons displaying in the tray
Fixed bug: error on context menu call for some plug-ins
Fixed bug: tray hints were sometimes displayed incorrectly (flickering effect on displaying hints)
Fixed bug in MS Excel task support
Fixed bug with .atz file creation
Fixed bug with multimonitor support
Fixed bug with shutdown and recycle options
RELATED SOFTWARE DOWNLOADS FOR ASTON SECURE DESKTOP