Guide: Transfer/Manange PSP Video File with PSP Movie Creator

PSP Movie Creator - Getting Started:

1. Install and run "PSP Movie Creator" on your PC.

2. Click "Open ..." button to open a DVD disc orvideo file. PSP Movie Creator will then start playing the movie in the preview window.

3. When movie starts, click "Start Recording" button. (You can change audio quality and output file size etc, before recording).

4. When the process finishes, click the transfer to PSP button to transfer & manage your PSP video files.


Transfer and Manange PSP Video Files

1. Use a USB cable (USB PC plug <--> USB mini-B plug cable) to connect Sony PSP to your computer .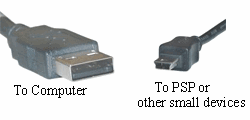 Figure: USB cable

2. In your Sony PSP, press "USB connection" menu.

(Note: You can also use a memory card reader to transfer the video file. Skip the above step 1, 2. Instead, connect your memory card reader to the computer and proceed to step 3.)

3. In the PSP Movie Creator, click the "PSP Video Transfer" menu. You will see an explorer window that lists video files on both PC and Sony PSP. The explorer window only lists MP4 video files and THM (video thumbnail) files. You can transfer files by drag & drop them to the right/left. You can also select an MP4 file to change its title so that it will be shown in Sony PSP as well.

Audio Settings:

Audio bitrate (in bits per second)

Audio bitrate refers to how many data storage is allocated to store audio signals. The higher audio bitrate, the better audio quality. There are some other factors that influence the audio quality as well, such as audio sampling frequency.

Sampling frequency:

44KHz sampling can reduce audio distortion on high frequency level, however it consumes more audio bitrate.

The average human ear can hear sounds in the frequency range 20-20000Hz. To reproduce a sound at a given frequency the audio sampling rate must be more than twice that frequency. This means that with a sampling frequency of 22000Hz (22 KHz) some high frequency information will be lost. The higher sampling frequency (44100Hz) have cut-offs above normal human hearing range.

Output Format

1. AVI format: Compress more. Provide better video quality than WMV format under the same output size. Need to download additional AVI codecs and players from Winavi Video Converter.

AVI format supports 1-pass encoding and 2-pass encoding. Both provide better quality than WMV format (WMV8). 2-pass encoding is explained later in this page.

2. WMV format: No need to install additional player on your PocketPC. Windows Media Player can play it directly. Recording is a little bit faster.

Resolution:

Once your crop mode is decided, you can choose a resolution from the list. Larger resolutions require more space in your memory card. For example, 416x240 (100kpixel) usually requires twice the space as 272x160 (44kpixel) requires under the same movie quality.

Aspect Ratio:

For widescreen (16:9) movies, you can stretch the video up to 4:3 in order to remove black spaces shown on top and buttom of the screen. It's a personal preference on how much you want to stretch. Stretching too much will cause people looks tall and thin on the screen. This setting can be used together with the cropping options.

Movie Quality & Size

To reduce the output size, you can either choose a lower movie quaility or a smaller resolution. Movie quality only degrade where there is fast motion. For cartoon movies or movies without many scenes of violence, a lower movie quality still provides very good quality.

Video Frame Rate:

Known as Frame Per Second (FPS) refers to the number of pictures displayed in 1 second in order to form continuous motions. The default frame rate is 15 fps. You may choose higher fps and increase the output size to get more continous motions.

The maximum fps for NTSC films is 24fps. Countries using NTSC standard include: USA, Canada, Japan, South Korea, ...

The maximum fps for PALfilms is 25fps. Countries using NTSC standard include most European countries, Australia, China, Israel, ...

2-pass encoding

This setting allows the recorder to analyze the video stream (in the 1st pass) before recording. Based on the analysis data, the 2nd pass will generate video in better quality (especially in fast motion scenes). This is done by distributing more bits to the fast motion part (analyzed during the 1st pass) and giving less bits to the more static part.

The analysis pass is a little faster than the real recording pass. So the overall recording time of 2-pass recording is less than (single pass recording time * 2).

Troubleshootings:

Key Exchange Failed:
Try to exit the program and run again. Or upgrade to DirectX 9.0c. For further information see this article. You may try to select a "DVD Navigator" other than "Microsoft DVD Navigator" in the DVD Settings dialog if upgrading to DirectX 9.0c won't help.

The default DVD video / audio decoder is not compatible

Go to "Options" menu -> "DVD Settings", choose a proper DVD Audio Decoder, such as "InterVideo Audio Decoder", "InterVideo Video Decoder" or "CyberLink Audio Decoder", "CyberLink Video/SP Decoder"

You may also use PSP Movie Creator as your DVD Video Decoder.

Video file does not show on PSP:
Make sure your video file name follows PSP's special convention. e.g. M4V12345.MP4. (You can change the "file number" in Output Settings dialog). Other file names are not recognized by PSP.

RealMedia format:
The support for rm / rmvb video file is experimental. If you installed some software component (e.g. Moonlight Player) and have difficulties in recording rm / rmvb files, it is recommended to uninstall such component first..

Other some problems:
Please do the following before contacting support. Download the latest version of PSP Movie Creator from Bestshareware.net Upgrading to DirectX 9.0. Download and install PSP Movie Creator, choose them as your DVD Video/Audio Decoder in the "DVD Settings" dialog. Also choose "Microsoft DVD Navigator" as your DVD navigator in the "DVD Settings" dialog.






Related Article and Guides:
How to Convert DVD Movies to iPod Format
How to Organize Your iPod?
How to Copy Music from iPod to the Computer?
How to Make an iPod Cover?
How to Record on an iPod for Free?
How to convert M4P files from Apple's iTunes store that are DRM protected to MP3.
How to Rip DVD Movie to iPod Video Format
How to convert DRM video clips like WMA, M4P, M4B, M4V, iTunes files
Guide to Record LP to CD and Record Tape to CD
How do I rip vinyl albums to my PC computer, CD, MP3 or iTunes/iPod?
M4P Converter Tutorials - Convert M4P to MP3, M4P to AAC, M4P to WMA
How to rip DVD movie to Zune video format and the easy way to put DVD on Zune.
Itunes to MP3 Converter - Convert Itunes to MP3
How to Convert and Copy DVD Movies to PSP