WhiteSmoke Enrichment Software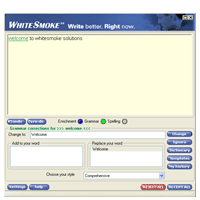 WhiteSmoke Patent Pending Technology is a quantum leap in word processing, as it is known today. It is the first time that a whole sentence is processed as opposed to a word-by-word process. WhiteSmoke really understands context!

To meet your writing demands in all fields, we are proud to offer customers our extensive software which is customized for general use. It incorporates all the standard grammar and spelling corrections, the most commonly used synonym replacements, and adjective and adverb insertions.
This all-purpose version contains professional as well as casual letter and email templates which address specific and non-specific propositions, requests, complaints, and greetings. This version will become invaluable in both your home and business life.
With the push of a button you get grammar corrections, spelling corrections, and language enrichment. You will appear more intelligent, professional, and articulate.
Special Offer - Order now and receive 25% off the regular price! You Save $20.00 USD





Software Information
System Requirements
File Size:
4.34 MB

Windows 98/ME/NT/2000/XP
Pentium II CPU
64 MB RAM

License:
Free to try, $59.96 to buy
Download:
Click to Download
Rating :
WhiteSmoke Benefits of WhiteSmoke Enrichment:
Thousands of grammar corrections.
Spell check
Functionality on all applications
Text enrichment
Hundreds of professional templates
Smart thesaurus with synonyms.
Instant-access dictionaries
Adverb and adjective insertions
The only true all-in-one solution:
Enriches your text with a relevant combination of adjectives and adverbs.
Corrects your grammar (supports more than 65,000 errors)
Checks spelling with our built-in comprehensive dictionaries (over 420,000 unique values)
Replaces and enhances your words with smart synonyms
Fixes punctuation throughout your text
Chooses from hundreds of professional templates
Takes your writing to a new level!

For example the sentence 'I am happy with your performance' may be upgraded to: 'I am completely thrilled with your outstanding achievement,' or to: 'I am very content with your work,' or any other agreeable combination. In addition, the program offers unique phrase suggestion. E.g., the word 'risk' may be replaced by the phrase 'walking on thin ice'.





RELATED SOFTWARE DOWNLOADS FOR WHITESMOKE ENRICHMENT