RCA-XPress™ Fishbone Diagram Builder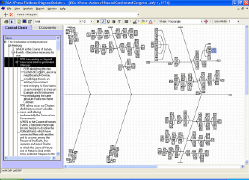 RCA-XPress™ Fishbone Diagram Builder is a powerful fishbone diagram drawing tool to dynamically create fishbone diagrams (aka ishikawa diagrams) in a Windows desktop environment. RCA-XPress™ real-time fishbone generator takes the difficult challenge of drawing fishbone diagrams to a level of ease never before seen. You simply enter the probable causes and RCA-XPress™ does the rest.

What do I need to do to create a fishbone diagram?
Remember the days when a brainstorming session would yield results that simply had to be entered into a fishbone diagram? Drawing the fishbone was a great challenge that no-one could easily finish. Now you can enter your ask-why responses in real-time while the fishbone diagram is created for you on the fly. That's it. Enter your problem statement and start asking why. Each probable cause is automatically placed in its proper position. Later you can go back to adjust font properties and text entries. Simply click refresh to realign.
A WYSIWYG Editor:
To permit you to be more productive, we have created an advanced WYSIWYG probable cause ask-why editor. WYSIWYG means "What You See Is What You Get". You enter the probable cause and it's automatically routed and placed - expanding the drawing for perfect symmetry with each entry. Later you can detail each entry with a multitude of colors, line styles and font properties.
Generate Reports from your Root Cause Analysis
RCA-Xpress™ saves all your work in a database so various reports can be generated from your probable cause entries. Create reports showing the assigned root causes, a complete list of all causal chains and a list of all documents assigned to each probable cause entry.





Software Information
System Requirements
Version:
4.3.2

Windows Vista/XP/2000/ME/98/NT4
Pentium class CPU - 350 Mhz
65636 color Video Card - 800x600
64 Mb RAM

License:
Free to try, $249.95 to buy
File Size:
8.86 MB
Rating :

Why use RCA-XPress™?
Because creating and documenting a fishbone diagram has never been so easy and so professional! RCA-XPress™ Fishbone Diagram Builder is based on a simple concept: A powerful tool, yes, but easy to use. You need to be spending your time determining the root causes not creating one! So while Asking Why five times is highly recommended, you don't need to ask why you need RCA-XPress™ - you already know.

Powerful features of RCAXPress:
Create fishbones in a fraction of time using a WYSIWYG editor (Windows® and Windows XP® compatible)
Assign documents to each probable cause node and quickly launch the document file.
Export the fishbone in Enhanced Metafile format for inclusion in reports.
Export the Fishbone Diagram in Adobe® Acrobat format.
Customizable interface for your probable cause default settings.
Easy to use workspace:
RCA-XPress' is powerful and easy to use. We have created an intuitive and fully integrated diagram design interface. Creating complex fishbone diagrams has never been easier.
The program is fully integrated in one workspace.
All the features are visible on screen and easy to access at any time.
Includes a built-in update capability for quick access to our web site.
Mouse and menu driven.
Customizable formats for your probable cause chains.
More, More, More...
RELATED SOFTWARE DOWNLOADS FOR RCAXPRESS