OutBack Plus 6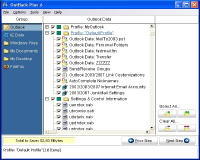 The OutBack Plus utility provides advanced data backup and restore for Microsoft Outlook 98, 2000, 2002, 2003 and 2007. The latest version [Version 6] extends the utility to provide full support for Outlook 2007 and for the new Business Contact Manager.
OutBack Plus is the quick and painless solution to your backup difficulties. OutBack Plus will take all the drudgery out of backing up your information, personal folders, signatures, stationery, wizard rules and more. No need to worry about which files to backup, which to ignore, which registry entries to copy, where to save them or whether they even work. OutBack Plus will do all the work for you.

is the perfect way to ensure that you have regular, updated backups of your critical data when you need them, and the software will even remind you to run your backups after a set number of days; so there's no need to rely on your remembering this critical task ever again!
OutBack Plus is the original and premiere data backup and restore utility for MicrosoftTM Outlook users. AJSystems.com created the first utility for backing up Outlook in 1999. Many thousands of users worldwide use OutBack Plus to backup Outlook.




Software Information
System Requirements
Version:
6.4.0

Windows 8/7/XP/Vista
512 MB of RAM
Pentium II CPU

File Size:
6.17 MB
License:
Free to try, $39.95 to buy
Screenshot :
View Screenshot
Rating :
Key Features of OutBack Plus 6:
Backup your Outlook Personal Folders (.pst files) in a compressed, zip compatible, archive. The ".pst" files grow very quickly. The Outback Plus backup file is smaller and more easily managed.
Your Outlook contains more than just email, so all of your critical Outlook control files are included in the backup - Signatures, Stationery, Wizard Rules, etc are also preserved for easy recovery.
Moving to a new PC? OutBack Plus allows you to restore the backup data to the same or another machine.
Automatic reminder to backup after a set number of days - according to your needs. Never again forget this important task.
"Backup Now!" - A One step backup using the parameters from the prior backup. The program remembers how you like to do things.
Backup your Documents and Desktop files. Most user data resides in your "My Documents" folder.
Backup your Internet Explorer favorites, cookies, and offline folders The IE data is included with no more than a mouse click!
Backup and restore Mozilla Firefox Browser data.
Restore "Wizards" assist with restore of Outlook data.
If you need to refer to your actions, a log is maintained for each Backup or Restore. This can easily be printed as required.
Operates on Windows Vista, XP, Media Center, 2003, Windows 2000, Windows ME, Windows 98SE, and Windows 98
Fully Compatible with Outlook 2007, 2003, 2002 (XP), 2000, and 98
New Features of OutBack Plus 6:
Open File Manager - A new, optional, module "Open File Manager (OFM)" is available with OutBack Plus 6. The OFM allows a valid backup to be made while Outlook is running
Outlook 2007 - support has been added for the OutLook 2007.
New Scheduler - The OutBack Plus Scheduler has been completely re-written. You may now exercise much greater control over the scheduled job, including:

Wake the computer to do the backup.
Run a job multiple times the same week.
Run a job on multiple days of the month.
Issue a warning before the backup begins.

Encryption - In prior versions of OutBack Plus, a backup could be password protected. OBP6 expands this facility to allow a backup to be encrypted using AES Encryption. AES has been adopted by the US Government.
Enhanced Jobs - The job functions have been significantly enhanced and most system options may be set separately for each Job.
Find - A "Find" function has been added to locate a file with the list of items to backup or restore.
Text/Log Viewer - The built-in text file viewer is now separate from the main program. Hence, you may view multiple files at a time (i.e. you do not need to close the first view to launch another).
Live Update - The Live Update process is now separate from the main program. Hence, you only need to grant access to the Internet (through any firewall) once.
Backup Folder - you may set a "global" default backup folder as well as a backup folder for each Job.
Additional Data Items - The OBP6 program will automatically include additional data items (e.g. the Office dictionary customization, VCF cards).
RELATED SOFTWARE DOWNLOADS FOR OUTBACKPLUS