IBA Bingo Card Maker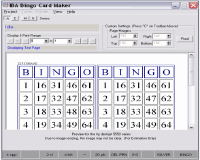 This utility allows you to make bingo cards that you can print on your printer. You may print multiple cards per page. Change the number of columns and rows on each bingo card and use letters on your cards other than "B I N G O". Each bingo page is printed with its on unique number. You may also barcode your bingo cards.

The software includes several features that allow you to personalize your bingo cards for your situation. The software has a feature which allows you to add a graphic to the top and bottom of each bingo page. You may also add a graphic to the top and bottom of each card (the same graphic). You may add text to the top of your bingo pages or above your cards. You may substitute a word for a letter on the bingo column headings. You can use your own picture for free space and you may create a word or picture list to use in place of numbers. You may determine if the words will appear at the top, bottom, below,or above the picture.
Software will print out a master bingo card sheet. It will also print out a number sheet full of random numbers that you can call if you do not have a bingo cage or other number calling device. The software allows you to adjust the margins of your bingo cards allowing you to focus your bingo cards on one area of the page if you are using speciality paper. You may save your bingo pages to disk in either bmp or jpg format. You may enable for disable free space. Software includes a card checking feature which will allow you to check for winning cards without having the customer to call out every number saving time.




Software Information
System Requirements
Version:
1.14

Windows 8/7/XP/Vista
Pentium II CPU
256 MB of RAM

License:
Free to try, $29.95 to buy
File Size:
1.84 MB
Screenshot :
View Screenshot
Rating :
IBA Bingo Card Maker Features list (Silver Edition):
Print up to 16 cards per page.
Prints Blank Bingo Cards
Delayed Printing: Keeps your printer free for other applications while your cards are printing. (It only prints so many at a time and then checks to see if there are any other print jobs in the queue and if not continues printing)
Software automatically adjusts itself to work on almost any printer.
Number Generator: You don't need to purchase a ball cage or other calling device, this will create a bingo number sequence and each time you click the next button tell you the number.
Prints a Master Bingo Sheet
Customizable adjustments available if you have a special needs printer or you have specialty paper and the bingo cards would better print in a particular location on the paper.
Each page has its own number.
You can change the number you start counting the pages via the offset variable. (default is 1)
Card Class Wizard - Now you may create cards of various sizes (max row/col 10). You may also use or own letters and many other features.
Pattern Class Wizard - Now you can create patterns of various sizes (max row/col 10).
Card Checking System
Double Action Cards (Cards Featuring Two Number per Cell)
Disable Free Space
Use your own Free Space Text
Software can color tag a page in case you want to identify several different games.
Changing the bingo letter border from square to circle, both, or none.
Changing the bingo number border from square to circle, both, or none.
Game Counter so you can associate each set of bingo cards to a game. If you print 500 cards and the game counter is set to 25 you will have 500 cards numbered 1-500 dash 1-25.
Custom cards per page. You define how many cards per row (12 max) and how many cards per column (12 Max) that you print.
You may disable word overlay so words are not obscured.
You may use your own company name & website address on each bingo card(s) page.
You may use your own graphic on each bingo card(s) page.
You can cycle the page colors to a number between 2 & 99..
Replace Numbers with Pictures and/or Words
Supports bitmap, jpeg, windows meta file, gif, device independent bitmap, and icons.
Prints a list of the phrases or pictures you used associated with their respective bingo numbers.
Control Numbers – Helps to ensure the validity of the cards presented for awards.
Replace the standard text "FS" (freespace) with a picture of your choosing.
Replace the common bingo letters, "B I N G O" with letters of your choosing.
Replace the common bingo letters with words of your choosing.
Add Footer Text to the page or each card.
Add Header Text to each page or each card.
Add extra information to each bingo page.
RELATED SOFTWARE DOWNLOADS FOR IBA BINGO CARD MAKER